A Discovery of Witches - Sky One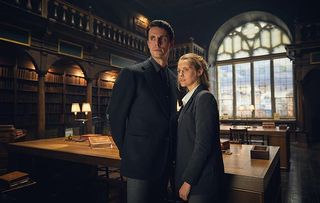 A historian discovers a manuscript that sends her into a world of magic, where she crosses paths with a vampire in Sky One's new fantasy drama A Discovery of Witches
Magic comes to Oxford in a spooky new fantasy drama - A Discovery of Witches.
If you think you know Oxford from years of watching Inspector Morse, Lewis and Endeavour then think again! This adaptation of Deborah Harkness' trilogy of novels tells the story of the creatures lurking amid the cobbles, colleges and libraries – in particular, Diana Bishop (Teresa Palmer), a witch desperate to lose her powers and focus on her career.
But after Diana calls up a certain book from the Bodleian Library, unaware of the magical vibrations she's tuning into, a charismatic vampire (Downton Abbey's Matthew Goode) appears in her life.
TVT caught up with Matthew during a break in filming and explained a little more about his character…
'He's a 1,500-year-old vampire so he's seen a lot! He's been through quite a bit, he lost a son, which he never forgives himself for, and he gets quite excitable and has to keep himself in check. He's quite a noble character and he means well,' says Matthew.
'There's a book called the Ashmole 782. It's an enchanted manuscript, a bit like the Holy Grail. Initially he sees Diana to find out where the book is, but then they start to learn a bit about each other and sparks fly.
'It's a forbidden love story – there's a council of three witches, three demons and three vampires, and hundreds of years ago they made a pact that nobody can fall in love with someone from another species,' he explains. 'You can't have a vampire and a witch together… or can you?'
It's clever, compelling and hugely enjoyable, and you'll never think of witches in the same way again…
TV Times rating: *****
Get the latest updates, reviews and unmissable series to watch and more!
Thank you for signing up to Whattowatch. You will receive a verification email shortly.
There was a problem. Please refresh the page and try again.