Drunk Phil attacks Sharon!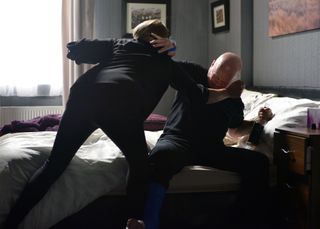 (Image credit: BBC/Kieron McCarron)
Sharon has kept Phil locked up in the room overnight, refusing to let him out. Sniffing out the booze, Phil finds a bottle of whisky that's been wrapped up for Christmas. When Sharon lets herself into the room only to find Phil drunk yet again, she's furious. Phil lashes out, injuring Sharon's ear. Sharon locks Phil back in the room. Is their marriage over?
Linda's disappointed when Sharon says she can't go to her hen party. Feeling guilty, Sharon later surprises Linda with a 90s-themed bash at The Vic. Realising that Sharon is struggling, Linda takes Sharon upstairs for a heart-to-heart, where Sharon opens up about her problems. Left alone, Sharon calls Gavin and leaves a message. Returning home, Sharon makes a point by handing Phil a drink and pouring one for herself.
Vincent confronts Arthur over the missing file from the safe, shocked when Arthur reveals he's given it to Ronnie. When Ronnie threatens Vincent, he turns to his mystery contact who insists if Vincent doesn't sort out Ronnie then he will. The mystery man turns out to be DS Pike from the Organised Crime Unit, who talks to Ronnie, warning her that unless she sides with them she could find herself under investigation for the Carl White murder.
Also, Shabnam and Kush return from honeymoon.
Get the latest updates, reviews and unmissable series to watch and more!
Thank you for signing up to Whattowatch. You will receive a verification email shortly.
There was a problem. Please refresh the page and try again.