Emma Willis: Delivering Babies – W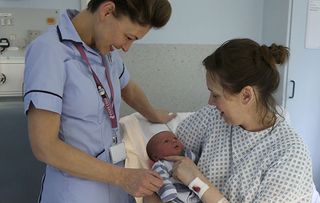 (Image credit: Luis Mengo)
Emma Willis scrubs up to help on a busy maternity ward
Emma Willis scrubs up to help on a busy maternity ward.
The presenter steps away from the glamour of the Big Brother red carpet to become a maternity care assistant in an Essex hospital, cleaning the ward beds, making the new mums a brew and – the best bit – assisting the midwives as they deliver babies.
Ever since her first child was born Emma has been in awe of the work midwives do and this six-part series follows her as she finds out just what it takes to work on the front line of midwifery.
This week, Emma begins her first exhausting 13-hour shift, as she supports labouring mum Laura (pictured above with Emma), who's 10 days overdue, and assists with a home birth. But how will she cope with the drama of her first emergency C-section?
In an exclusive interview with TV Times, mum-of-three Emma, 42, tells us about her extraordinary 10 weeks on the wards and how the experience left her considering baby number four…
The full interview is available in TV Times on sale 16 October.
You've been in awe of midwives since your first child, Isabelle, was born [in June 2009]. Is that what inspired you to do this series? Well, it was three things really. My mum, Cathy, was what they used to call an auxiliary on a labour ward for about 15 years, and I always wanted to work in a hospital. I suppose it was my job of choice growing up, but it never happened.
Then I had my first baby and it dawned on me what an incredible job midwives do when you're at your most vulnerable – I kind of fell in love with them at that moment! Also watching my husband [Busted star Matt Willis] witness our births and seeing how it affected him made me go, 'I want to see it too!', and that was it, I was on a mission!
What was Isabelle's birth like? I had a hospital birth and it was a funny time. My head was all over the place, I didn't feel very well, I'd been sick and a lot of it is a blur. I was terrified, but the midwives do everything for you and you can't help but want to thank them.
TV Times rating: ****
Get the latest updates, reviews and unmissable series to watch and more!
Thank you for signing up to Whattowatch. You will receive a verification email shortly.
There was a problem. Please refresh the page and try again.