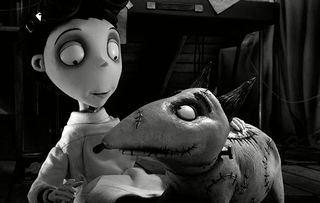 (Image credit: Moviestore/REX/Shutterstock)
Tim Burton's black-and-white, stop-motion animation film is absolutely enchanting
Tim Burton's black-and-white, stop-motion animation film is absolutely enchanting.
A full-length, expanded version of Burton's 1984 live-action short of the same name, it's a loving homage to old-school horror films and tells the tale of a boy who brings his pet dog back to life.
Young Victor Frankenstein is a budding film-maker and inventor whose only friend is his bull terrier, Sparky, the star of the Godzilla-style home movies he shoots in his attic.
When Sparky gets run over by a car, Victor toils away to revive his pet, using his mother's domestic appliances and harnessing the power of lightning in a captivating scene that's an affectionate parody-cum-homage to James Whale's classic 1931 Frankenstein.
Soon, Victor's schoolmates start trying to reanimate their own dead pets, but the experiments go wrong and the town is quickly overrun with monsters...
Packed with clever jokes and allusions, the film will delight horror fans, but you don't need to be a film buff to appreciate Burton's thoroughly engaging celebration of science, creativity and the power of the imagination.
Among the voice cast, listen out for Winona Ryder as girl-next-door Elsa Van Helsing and Martin Landau as Victor's science teacher, a Vincent Price lookalike.
Get the What to Watch Newsletter
The latest updates, reviews and unmissable series to watch and more!