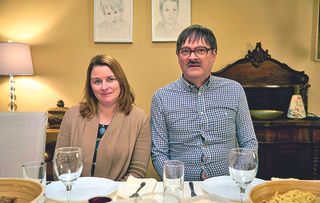 (Image credit: Mark Johnson)
The Goodmans and co return for more meals and mishaps in Friday Night Dinner
The brilliant Mark Heap's hilarious turn as oddball neighbour Jim is always one of the highlights of Friday Night Dinner.
And as the family sitcom returns for a fifth series, there's an unexpected turn of events when the confirmed bachelor goes on a date with new lady friend Jackie, played by Rosie Cavaliero.
But when Jim manages to set fire to the restaurant, the couple turn up – soaking wet – at the Goodmans' house to join the family for a toe-curlingly awkward meal.
Throw in a hot tub and a furniture-destroying dog, and you've got another classic episode of this consistently funny series.
Thank you for signing up to Whattowatch. You will receive a verification email shortly.
There was a problem. Please refresh the page and try again.