Gordon Ramsay Uncharted - National Geographic Channel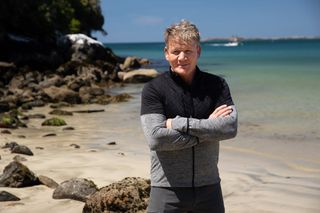 (Image credit: National Geographic/Camilla Ruth)
In Gordon Ramsay Uncharted, the chef leaves the shiny kitchens of the UK and USA behind for a cooking adventure that takes him to places right off the beaten track
In Gordon Ramsay Uncharted, chef Gordon Ramsay escapes the heat of the kitchen to go back to nature and discover more about the food of six remote locations.
He begins in southern New Zealand, on Stewart Island, where he meets local Maori chef Monique Fiso.
She hands him a machete and takes him foraging – a vital part of Maori cooking.
He also free-dives in the ocean for paua, a type of shellfish, catches eels with his hands and shoots a wild mountain goat.
After learning all he can about Maori cuisine, he ends his Kiwi adventure by cooking up a feast for a group of Maori elders.
Completely out of his comfort zone (he's a rubbish forager), Gordon embraces the challenge of learning about this little known cuisine.
TV Times rating: ****
Thank you for signing up to Whattowatch. You will receive a verification email shortly.
There was a problem. Please refresh the page and try again.