Hansel & Gretel: Witch Hunters - 5Star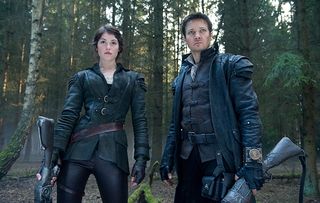 (Image credit: David Appleby)
Turning the siblings from the Brothers Grimm fairy tale into witch-slaying bounty hunters is an amusingly cheeky notion
Turning the siblings from the Brothers Grimm fairy tale into witch-slaying bounty hunters is an amusingly cheeky notion.
This jokey splatterfest mostly entertains, thanks to Jeremy Renner and Gemma Arterton in the title roles, and there's plenty of darkly comic gore when the duo, 15 years after their fabled escape from that treacherous gingerbread house, set their sights on Famke Janssen's witch and her coven of child-snatchers.
They use blatantly out-of-time weaponry - a shotgun for Hansel, a double-barrelled crossbow for Gretel - but these deliberately modern touches are more irritating than clever.
Still, the effects are good and when the witches are whizzing about on broomsticks or getting blasted to pieces by the vengeful siblings, the film flies.
Get the latest updates, reviews and unmissable series to watch and more!
Thank you for signing up to Whattowatch. You will receive a verification email shortly.
There was a problem. Please refresh the page and try again.