Hidden Britain by Drone – C4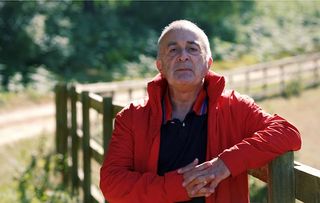 (Image credit: Pro Co)
Tony Robinson presents aerial footage of areas of Britain that are off limits to the public, including the underground tube station at Bank
Hidden Britain by Drone.
Tony Robinson returns with a second series of the show using drones to take us into usually inaccessible places.
Tonight, they dive into tunnels at London's Bank station, where construction work is going on, soar over oil rigs in a Scottish firth and, at a location worthy of Scooby-Doo, explore an abandoned amusement park.
'I've always thought of a drone as being essentially an exterior device,' explains Tony, 'but we've been able to use them in interiors, too.
'The first sequence in episode one is at a big stately home, where we were able to do amazing tracking shots through rooms where the doors you're going through are very small. You couldn't have done that before.
'We also go underground into the tunnels at Bank Tube station in London, into luxury car vaults, and into the biggest wine store in Europe – it's brilliant stuff!
'It's wonderful that they can take such epic shots with these tiny devices, as it used to be the case that if you wanted a big picture, you needed a big camera. And they've been able to afford a fleet of drones, so we've got tiny ones, medium-sized and large ones – there's even one we call 'the black widow spider'! adds Tony. 'It's all about using the right drone for the right job!'
TV Times rating: ****
TV Times Highlights Editor
As TV Times Highlights Editor I get to hear about all the latest TV shows coming soon. Here at TVT HQ we are in the privileged position of selecting the best programmes from across all the channels and streaming platforms. Our mission is to make it easier for our readers to decide what to watch - and give them lots of choice of genres - all the latest shows, plus some nostalgic choices we call hidden gems, too. My career began with a postgraduate degree in periodical journalism (ahem, yes old school!) in 1991 and I've worked in TV media since 2000.
Thank you for signing up to Whattowatch. You will receive a verification email shortly.
There was a problem. Please refresh the page and try again.