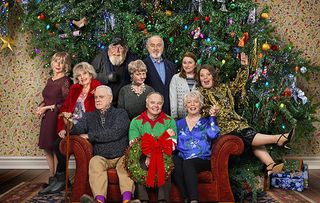 (Image credit: BBC / Kieron McCarron /Matt Burl)
Join Edith (Alison Steadman) and Phil (John Cleese) as they get set to host their final Christmas in Britain before setting off for their much longed-for retirement abroad.
However, their plans for a peaceful day are wrecked when Edith's opinionated sister Joan (played by Sue Johnston) arrives for the day, recycling old presents and insisting on watching the Queen's speech after lunch.
Edith's son Roger (Jason Watkins) shows no sign of leaving, Bob 'the burglar' makes an appearance and housekeeper Queenie Gale (Anne Reid) is also up to her old tricks. It's no wonder the whole fiasco leaves Phil longing for sunnier, and quieter, climes…
TV Times rating: ***
TV Times caught up with Alison, 72, to find out more…
What can you tell us about the Christmas special?
Edith and Phil have got the family coming over. Edith's sister, Joan, arrives and is trouble. It wouldn't be any fun if she was just a lovely lady who came in with a Christmas cake! Roger's still around and Bob 'the burglar' also gets involved.
Did you enjoy having Sue join the cast to play your sister?
It was great. Sue used to live very near me and we had mutual friends, so we got to know each other many years ago. We're both from Liverpool and both support the team, so it was lovely to have her on board.
Were you feeling festive while filming this episode?
The episodes aren't filmed chronologically and the Christmas episode was actually the final thing we filmed. We were standing around in the garden, drinking mulled wine, and then the Salvation Army came in playing hymns. It felt like a lovely ending to the whole shoot.
How do you feel about being on TV over Christmas?
In the past I've been in Gavin & Stacey and one or two other shows at this time of year, and it's nice that people feel that warmth of watching people sharing Christmas. I'll be watching it – I haven't seen it yet!
The second series of Hold the Sunset will hit our screens next year. Did you enjoy filming it?
Definitely – it's so much fun. We're playing a family and we are like a family. When we started this series, John Cleese kindly bought us all chairs for filming with our names on them. When we finished there was a line of these chairs and all of them were empty – it was sad.
Get the latest updates, reviews and unmissable series to watch and more!
Thank you for signing up to Whattowatch. You will receive a verification email shortly.
There was a problem. Please refresh the page and try again.