Ingrid Goes West - Sky Cinema Premiere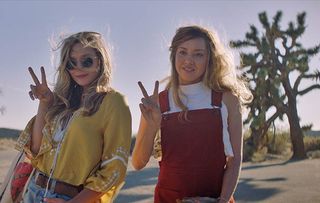 (Image credit: NBCUniversal)
This wickedly funny black comedy stars Aubrey Plaza as a mentally unstable internet stalker and Elizabeth Olsen as a vapid social media celebrity
This wickedly funny black comedy stars Aubrey Plaza as a mentally unstable internet stalker and Elizabeth Olsen as a vapid social media celebrity.
We first encounter Plaza's glassy-eyed Ingrid in mid-meltdown, gate-crashing the wedding of a stranger she deludedly imagines is her friend simply because she follows her on Instagram.
A spell in a mental institution follows, but on her release it isn't long before Ingrid has found another fixation in the shape of Olsen's glamorous Taylor Sloane. Captivated by her life of hipster cool and funded by an inheritance from her late mother, Ingrid leaves her Pennsylvania home and heads for Venice Beach, California, the well-heeled bohemian neighbourhood where Olsen lives.
There she rents an apartment from a Batman-obsessed screenwriter (O'Shea Jackson Jr) and sets about infiltrating her idol's circle. Her efforts are cringe-makingly funny. She 'finds' Taylor's dog (having first kidnapped the pooch), copies her taste and even buys one of her husband's ghastly artworks. Yet Ingrid's exertions pay off and they become friends. Then Taylor's loathsome brother (Billy Magnussen) turns up and sees through Ingrid's act...
Director Matt Spicer and his co-writer David Branson Smith have gleeful fun satirising the shallowness of social media and the insecurity it engenders.
But what makes the film work so well are Plaza and Olsen's pitch-perfect performances, which keep our sympathies nicely balanced as Ingrid's hopelessly needy scheme unravels.
#Hilarious.
This film premieres on Sunday 29 July.
Thank you for signing up to Whattowatch. You will receive a verification email shortly.
There was a problem. Please refresh the page and try again.