Jac's back! And she's gunning for Guy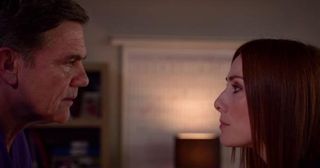 Fiery surgeon Jac Naylor seems like a changed woman as she returns to Holby this week. But it doesn't last long...
It seems that Jac Naylor has turned over a new leaf as she returns from six weeks' off all upbeat and positive – she extends an olive branch to arch-rival Guy Self. Jac's tasked with treating Guy's mother Valerie, and soon realises all is not well between them.
Jac then meets new F1 Jasmine Burrows and is impressed with the medic's ballsy nature, especially when she suggests Valerie could be a candidate for the Herzig heart device. Thinking they've bonded, Jasmine plucks up the courage to tell Jac she's her half-sister – but Jac snaps back to her old ways, and warns Jasmine not to tell anyone they're related!
Later, as Jac feels Valerie is too unwell for surgery, Guy begs her to perform the op. Seeing him grovel, Jac agrees, on one condition: that he gets off her ward for good! In theatre, the operation goes badly and Valerie dies on the table.
Full of mixed emotions, Guy confides in Jac that his mother abused him as a child. But Jac's pity doesn't last long as she tells Guy she still plans to get rid of him…
Meanwhile, Serena's looking forward to going on holiday with her daughter later in the day. But she soon finds herself pulled into Fletch's family troubles as his daughter Evie doesn't want to be discharged and return home after her accident. When Serena then learns that Fletch blames himself for Evie's brother Mikey accidentally injuring her, she does her best to get father and daughter talking again…
Also, Essie and Sacha realise that trying for a baby is putting immense strain on their relationship. But a generous gift from pharmacist Mel soon makes them realise their love for one another and helps get them back on track.
Get the latest updates, reviews and unmissable series to watch and more!
Thank you for signing up to Whattowatch. You will receive a verification email shortly.
There was a problem. Please refresh the page and try again.