Lady Bird - Sky Cinema Premiere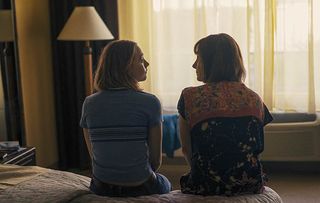 (Image credit: Universal Pictures)
Saoirse Ronan takes the title role as the snarky but vulnerable protagonist of this beguiling coming-of-age comedy
Saoirse Ronan takes the title role as the snarky but vulnerable protagonist of this beguiling coming-of-age comedy.
She's a restless 17-year-old in 2002 Sacramento, California, who is desperate to escape her dull suburban roots (as she sees them) and go to college on the sophisticated East Coast. She's a self-absorbed dreamer, but lacks the work ethic and talent to back up her feelings of superiority.
Thanks to Ronan's superbly real performance and the deft writing and directing from Greta Gerwig, Lady Bird (real name Christine) is by turns annoying and endearing.
The thrust of the movie, however, is her prickly love-hate relationship with her long-suffering mother, played with careworn sympathy by Laurie Metcalf. The pair clash repeatedly, but Gerwig lets us see the deep love beneath the discord.
Her film's generosity of spirit extends to all the characters – including Lady Bird's mild-mannered, unemployed father (Tracy Letts), her neglected best friend (a wonderful Beanie Feldstein) and her first crushes, a drama club aficionado (Lucas Hedges) and a too-cool-for-school hipster (Timothée Chalamet).
Even the nuns and priest at her Catholic high school come off well. And so does unappreciated Sacramento itself, captured in a series of beautifully composed shots throughout the film.
Nominated for five Oscars, Gerwig's film is whip-smart, achingly honest and piercingly funny, but what will remain with you is its beautiful tender heart.
Get the latest updates, reviews and unmissable series to watch and more!
Thank you for signing up to Whattowatch. You will receive a verification email shortly.
There was a problem. Please refresh the page and try again.