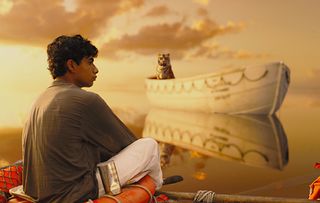 (Image credit: jason)
Boasting awesome CGI effects and beguiling images, this epic about shipwreck and survival is wondrous and Suraj Sharma makes a resilient young hero
Boasting awesome CGI effects and beguiling images, this epic about shipwreck and survival is wondrous and Suraj Sharma makes a resilient young hero.
Putting Yann Martel's bestselling 2001 novel on screen would seem an impossible task, but director Ang Lee pulls off the feat spectacularly with this awesome adventure.
Sharma's Pi grows up at his family's zoo in Pondicherry, India, where his inquisitive approach to different religious faiths (Hinduism, Christianity, Islam) baffles his rationalist father.
When Pi is 16, the family decides to leave India for North America, together with all their animals. But the ship carrying them is sunk in the middle of the ocean, leaving Pi stranded in a lifeboat with an injured zebra, an orangutan, a hyena and a fearsome Bengal tiger named Richard Parker. Before long, only Pi and the tiger remain...
Lee packs in some truly breathtaking images, including a mirror-like sea reflecting golden clouds, a swarm of flying fish, an island bristling with meerkats and a whale leaping out of the water, while thanks to visual effects wizardry we really do believe Pi and the tiger are together in that boat.
Deservedly, this must-see movie picked up Oscars for direction, cinematography, effects and score.
Get the What to Watch Newsletter
The latest updates, reviews and unmissable series to watch and more!