Lisa's online date is a disaster!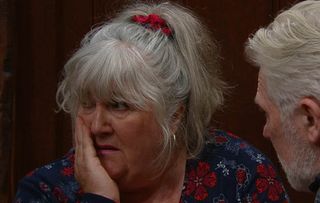 Divorced Lisa Dingle dips her toe in the dating pool - and loathes it!
Having been persuaded into it, divorcee Lisa goes on a date with a stranger. But the whole thing is a disaster! Will it put her off searching for a new romance?
When Aaron hears Liv has bunked off school and is busy boozing he feels bad about not having listened to his misunderstood sister. As the siblings hug, Liv begs Aaron to find them a place of their own. But Aaron refuses to use the money they inherited from their abusive dad Gordon, and is then stung when Rebecca mocks his assumed financial shortcomings.
Hungover and feeling wretched, Moira has a new headache to contend with when Adam asks her why she turned the freezer lorry off as their entire stock is ruined. Fed up to the back teeth with everything, she arrives at the Woolie and throws the keys to the farm at Emma and Pete telling them the place is theirs…
Reluctant Laurel is in a right state as Ashley's carer, Will, starts work. Feeling guilty about employing someone to help care for her husband, it's a painful, bittersweet moment for Laurel when she notices how good Will is with him.
Get the latest updates, reviews and unmissable series to watch and more!
Thank you for signing up to Whattowatch. You will receive a verification email shortly.
There was a problem. Please refresh the page and try again.