I Love You Phillip Morris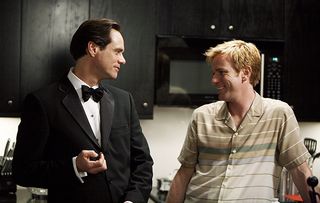 (Image credit: Patti Perret)
Witty and provocative, this deranged true-story comedy stars Jim Carrey
Witty and provocative, this deranged true-story comedy stars Jim Carrey.
He's on top form as a gay man who kids himself that he's straight and happily married to Leslie Mann, until a car crash prompts an out-of-the-closet rethink.
Desperate for money to fund his lavish new lifestyle with his lover in Miami, he turns to fraud - and ends up in jail, where he falls in love with sensitive fellow inmate Phillip Morris (Ewan McGregor).
Yet, despite their undeniable love for one another, it's certainly not a simple case of happy ever after once they're released, as Carrey becomes embroiled in more scams.
The stars go at their roles with abandon and take no prisoners in one of the boldest and cleverest comedies for a good long while.
Thank you for signing up to Whattowatch. You will receive a verification email shortly.
There was a problem. Please refresh the page and try again.