Lowlife - Sky Cinema Premiere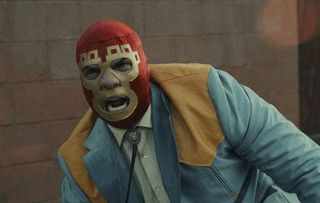 (Image credit: Signature Entertainment)
Blending deadpan black comedy, savagely gory violence and a surprising amount of heart, this very offbeat crime thriller has cult movie written all over it
Blending deadpan black comedy, savagely gory violence and a surprising amount of heart, this very offbeat crime thriller has cult movie written all over it.
The setting is a seedy patch of Los Angeles, where a motley bunch of ne'er-do-wells and worse get slapped together by crime and fate.
There's a mask-wearing Mexican wrestler prone to blackout rages; a former junkie motel owner who gave up her daughter for adoption; a dim-witted ex-con with a full-face swastika tattoo; and a truly vicious crime boss who runs a sex trafficking and organ-harvesting ring from the basement of a taco shack.
The plot that links them features all manner of bizarre twists and time shifts.
Remarkably, first-time director Ryan Prows and his colleagues in LA-based comedy collective Tomm Fondle pull the whole thing off.
Get the latest updates, reviews and unmissable series to watch and more!
Thank you for signing up to Whattowatch. You will receive a verification email shortly.
There was a problem. Please refresh the page and try again.