Made in Great Britain – BBC2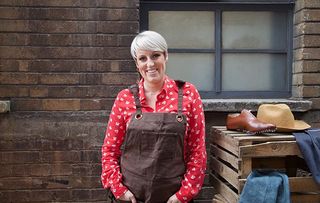 (Image credit: BBC/Endemol Shine UK/Rudi Gordon)
Made in Great Britain shows how craft and manufacturing skills shaped the nation's towns and cities, beginning with Sheffield's transformation into an industrial powerhouse
We live in the age of technology yet there's been a resurgence of Britain's best-loved crafting techniques, from baking to knitting.
With our lives full of mod cons it's a pleasant way to spend time, but what was it really like to produce cheese in the 1600s or work in Luton's toxic hat-making industry?
Steph McGovern (pictured above) hosts a new six-part series that tasks four modern craftspeople with making things that often haven't been made in centuries.
Tonight the team time-travel through Sheffield's steel industry, hand-making a scythe in a traditional forge and mass-producing cutlery in a Victorian factory.
Definitely a history lesson worth turning up for.
Steph – who in person is as lovely and down-to-earth as she is on screen – tells TV Times more…
What attracted you to presenting Made in Great Britain? Well, I stopped studying history at school when I was 13 because I didn't really like it. So I have always felt a certain ignorance about history. Filming Made in Great Britain has been fun and I've learnt loads. The history of some of our most important products, like shoes and cutlery, is totally fascinating.
Tell us about the craftspeople... We've got a team, each with their own speciality – Charlton is a chef, Katie a blacksmith, Claire a potter, and Jason is a leatherworker. Each week we look at the origins of a product and see if they can make them as they would have been made in different eras of time.
They experience what life would have been like for a farmer making cheese in the 1600s or a blacksmith making a scythe and what jobs were done by men, women or children, what they would have been paid and even their lunch!
Do you have any craft skills? My dad is a sculptor, so I think I've got the craft in me. I do DIY and if I've got time, I make cards for people. I'm not at the level of the people on the programme, but I can definitely appreciate their skills.
This show seems a bit of a departure from the finance-focused shows we're used to seeing you on… I started life before the media as an engineer. I used to work for Black & Decker in Durham [Steph's too modest to mention that she won 'Young Engineer for Britain' when she was 19, after designing a production technique that saved Black & Decker £150,000 a year].
My core background is science and engineering, which also falls into the business category because that's how businesses used to make money! Made in Great Britain falls into the genre of history but it is also about industrialisation and technology.
The full interview can be seen in TV Times on sale 16 October 2018.
TV Times rating: ****
Get the latest updates, reviews and unmissable series to watch and more!
Thank you for signing up to Whattowatch. You will receive a verification email shortly.
There was a problem. Please refresh the page and try again.