Million Dollar Wedding Planner – BBC2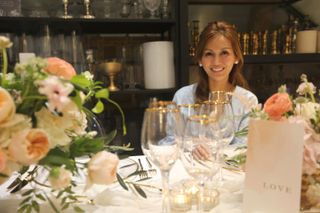 BBC2's Million Dollar Wedding Planner follows Lelian Chew, who organises exclusive weddings for the super-rich in the Far East
In BBC2's Million Dollar Wedding Planner, we meet Lelian Chew (pictured above) – a woman at the very peak of her profession.
A wedding planner in the Far East, she takes on no more than 10 jobs a year.
But with each one coming in at around $1million, this is a full-time business.
A closer look at how the very wealthy live – if you've got money, changing your mind, then changing it again, and again, is par for the course.
From crystal chandeliers to gold-threaded outfits, no demand is too extravagant for her.
Cameras follow her as she organises three ultra-expensive nuptials, including Noel and Derek, who want an eight-course banquet for 600 guests, and Prairie and Roger, who are hiring out an entire five-star resort for their wedding in Bali.
MORE: See our new TV listings guide
Her biggest challenge is the wedding of Febyan and Angie, who want to host two lavish ceremonies – one in Indonesia and one at their vineyard in Italy where Lelian must create a special platform so it looks like the bride is walking on water.
This will not be shown in Wales.
TV Times rating: ****
Get the latest updates, reviews and unmissable series to watch and more!
Thank you for signing up to Whattowatch. You will receive a verification email shortly.
There was a problem. Please refresh the page and try again.