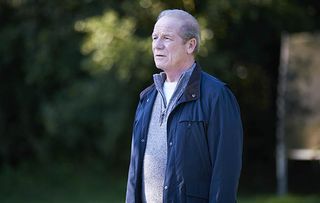 (Image credit: BBC/Big Talk Productions/Mark Jo)
Actor Peter Mullan on why he thought it was a mistake when he was cast as the romantic hero in the BAFTA-award winning BBC2 comedy Mum…
Actor Peter Mullan on why he thought it was a mistake when he was cast as the romantic hero in the BAFTA-award winning BBC2 comedy Mum…
While Cathy is trying to find a way to spend a peaceful few moments away from her family in Mum this week, plans are also afoot to go for a country walk, and Cathy is trying to arrange things so that she and Michael can trail a safe distance.
Meanwhile, Pauline might have met her match when she meets Claire (ex-EastEnders star Daniela Denby-Ashe), the wealthy but snooty owner of the house.
Peter Mullan (pictured above) has made his name playing a host of unpleasant, often chilling, characters in hard-hitting dramas, such as BBC2 thriller Top of the Lake.
But his BAFTA-nominated performance in Mum has turned him into an unlikely romantic hero as we've watched his character, besotted Michael, quietly battle to win the heart of kindly widow Cathy (Lesley Manville).
While we can't imagine anyone else portraying Michael, it nearly didn't happen as Peter was convinced he was the wrong man for the job due to his lack of comedy credentials.
Here, Peter, 59, tells TV Times why he worried about playing it for laughs and reveals what he will – and won't! – miss about Mum when the current third and final series comes to an end…
How do you feel about Cathy and Michael now being together, albeit secretly because Cathy's son Jason (Sam Swainsbury) is hostile towards the relationship?
Sam's performance is extraordinary – he's turned a lovable lad into someone who is struggling with his relationship with his mum, his dead dad and pathetic old Michael.
But the bravest thing the writer Stefan Golaszewski has done this series was showing that Cathy and Michael have already been to bed together, so he got rid of the 'will they, won't they?' element.
When I read that in the first episode, I thought I'd read the scripts in the wrong order.
I didn't expect it.
Do viewers tell you they are rooting for Cathy and Michael?
Yes, folk always come up and say, 'Aww!'
It's quite soppy and they have been lovely to play.
Having two central characters being grounded within this place of madness means it's very real.
Has Mum given you a thirst for appearing in more comedy?
No, because the others are doing the funny stuff; I just play the straight guy.
I don't think I've received so much as a titter.
All I get is, 'Aww.' Michael only does bad jokes!
You found it tough to get into the role at first, didn't you?
Yes, when I was cast, I genuinely thought they'd made a mistake because Michael was just so wet!
I could not picture me doing it at all.
It was terrifying.
In the first series, I wandered around like Michael does in a daze wondering, 'When do I get to cut her head off?'
Because that's normally what I do – I'm a bit lost without bloodshed!
Will you miss Mum when it ends?
I won't miss that terror!
And any speech with more than four lines was nerve-racking because Stefan's a stickler for dialogue.
If there's a pronoun out of place, you have to do it again.
But I'll miss Lesley deeply.
She's a genius, as are the rest of the cast.
It was one of those rare occasions when we were all one big happy family.
TV Times rating: *****
Get the What to Watch Newsletter
The latest updates, reviews and unmissable series to watch and more!