Neighbours spoilers: Susan and Toadie spy on Paul and Jemima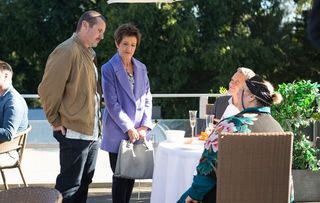 Susan gets Toadie to help her gatecrash Paul's lunch with Jemima. But Susan digs herself in deeper when Jemima hears Susan badmouthing her to Paul.
Susan is surprised when she discovers Paul is having lunch with her hubby Karl's long-lost sister Jemima, and immediately suspects freeloader Jemima could be after businessman Paul's cash.
With the help of legal eagle friend Toadie, Susan gatecrashes Paul and Jemima's lunch and is alarmed to find the pair laughing together and getting on like old friends! Thinking Jemima is out of earshot, Susan badmouths Jemima to Paul, warning him he's making a mistake getting involved with crafty Jemima. Unfortunately, Jemima overhears Susan and soon plays the victim to Karl over Susan's hurtful comments. Will Susan be forced to apologise to her arch-nemesis Jemima?
Secret lovers Terese and Leo have been keeping their distance from each other since their passionate romp at Lassiter's on the day of David and Aaron's wedding. But when Leo starts to suspect his dad Paul has finally moved on from his doomed romance with Terese, it seems the coast is clear for the pair to officially get together. But will Terese agree to begin a relationship with Leo?
And Sheila and Shane are both suspicious their other halves, Clive and Dipi are up to no good when they are seen sneaking around together. What's going on between Dipi and Clive?
Neighbours continues weekdays at 1:45pm and 5:30pm on Channel 5
Get the latest updates, reviews and unmissable series to watch and more!
Thank you for signing up to Whattowatch. You will receive a verification email shortly.
There was a problem. Please refresh the page and try again.