Neighbours spoilers: Will Chloe Brennan accept cash bribe from Paul Robinson?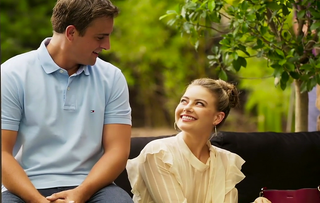 One way or another, Paul is determined to sabotage his daughter Amy's relationship with Gary. But will Chloe agree to help him do it?
As the day of Amy Williams and Gary Canning's engagement party approaches, Amy's dad Paul Robinson is secretly seething he still hasn't managed to wreck their relationship.
Paul thinks Amy can do a lot better than Gary and has no intention of seeing the pair make it down the aisle!
However, with Amy's ex-boyfriend Kyle Canning now hooking up with housemate Chloe Brennan, it looks like there's no way Kyle will now help Paul with his original plan to break-up Amy and Gary.
Annoyed that Kyle is now otherwise distracted, Paul decides he needs to remove Chloe from the equation and offers her big bucks to stay away from Kyle! But will she give into his bribe?
Meanwhile, it's panic stations on Ramsay Street as the Kennedys rush to warn their neighbours that the care packages of apricots they have each received contain dangerous razorblades!
The community instantly suspect the Kennedy's new houseguest, Finn Kelly, whose idea it was to distribute the fruit. After all, Finn's done far worst in the past.
Will Karl and Susan be able to continue defending Finn when the evidence suggests he's up to his sinister old tricks?
Neighbours continues weekdays at 1:45pm and 5:30pm on Channel 5
Get the latest updates, reviews and unmissable series to watch and more!
Thank you for signing up to Whattowatch. You will receive a verification email shortly.
There was a problem. Please refresh the page and try again.