Old People's Home for 4 Year Olds: Christmas – C4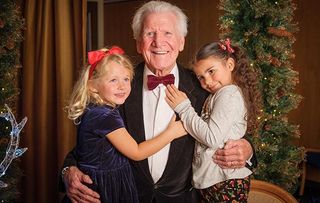 (Image credit: Joss Barratt)
Cameras revisit the folk at the Old People's Home for 4 Year Olds as they and their young friends at Lark Hill retirement village celebrate Christmas
Cameras revisit the folk at the Old People's Home for 4 Year Olds as they and their young friends at Lark Hill retirement village celebrate Christmas
Great news for fans of this heart-warming series – a Christmas special reuniting the residents of Lark Hill retirement village in Nottingham with the pre-schoolers who brought a huge amount of joy and humour into their lives for a few months.
Gathering together for a knees-up with singing, dancing and snowball fights, the children each receive a gift from Santa while learning about the importance of giving.
Retired magistrate Pauleen, 92, catches up with special friend Ismail while retired secretary Beryl, 85, delights in young Scarlett's progress.
There's also a surprise performance from singer Alfie Boe, whose booming vocals prove to be a little too much for delicate little ears!
TV Times rating: *****
Retired magistrate Pauleen, 92, and retired secretary Beryl, 85, reveal how the children have made this Christmas special for them...
What kind of activities did you take part in for the festive special? Beryl: It was all outdoors and there was a wooden hut covered in snow, which the children were very excited about. I don't know if they'd all seen snow before, it probably was a first for some of them. They all got a Christmas present from Santa so they were very busy opening their parcels. My little friend Scarlett got some wild animal figures which suited her down to the ground.
Pauleen: We had a great party and it was lots of fun. The children were excited because they could throw snowballs. We also had a surprise performance from Alfie Boe and the children's reaction was hilarious. Us oldies sat in the front row and the children sat at our feet but when he started singing with a microphone, the kids put their hands over their ears as they couldn't bear the noise! Alfie cracked up laughing and said, 'Only children would do that!'
How did it feel being reunited with the children? Beryl: It was so lovely to see them again. Scarlett has changed quite a bit since we started, both in stature and in her abilities. She writes ever so well now and wrote a Get Well card for Victor, as he'd been unwell. Her behaviour is very good – she knows when to be quiet and when she can run around.
Pauleen: The children were as delighted to see us, as we were to see them. We did see a difference. Some have started at infant school and they seemed more mature. They were more talkative, eager to tell us about their new school and it was a delight. I've kept in touch with Ismail who is a gorgeous little boy. I'm also going to visit their house when his brothers and sister have got over the chickenpox!
How has taking part in the show changed your life? Beryl: People recognise me now, which surprised me. I've been stopped in the local shop and people say, 'Oh, I've seen you on the television!' I didn't expect that at my age, especially when I'm wearing a hat! I've certainly enjoyed the experience. My family think it's great and when Alfie Boe performed, my daughter came all the way from Buckinghamshire!
Pauleen: I've never been a lonely person as I get involved in so many things but it was a new experience and at 92 you don't get offered many new opportunities. My sciatica has improved and I'm a bit more tolerant and less impatient now. I hate being kept waiting but I had to get used to it during filming! I also get recognised in Wilko! So I suppose that's fame!
Get the What to Watch Newsletter
The latest updates, reviews and unmissable series to watch and more!
TV Times Highlights Editor
As TV Times Highlights Editor I get to hear about all the latest TV shows coming soon. Here at TVT HQ we are in the privileged position of selecting the best programmes from across all the channels and streaming platforms. Our mission is to make it easier for our readers to decide what to watch - and give them lots of choice of genres - all the latest shows, plus some nostalgic choices we call hidden gems, too. My career began with a postgraduate degree in periodical journalism (ahem, yes old school!) in 1991 and I've worked in TV media since 2000.