Ollie saves Lofty's Grandma in Holby City!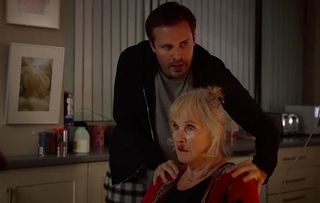 (Image credit: BBC)
When the brain-damaged medic makes a diagnosis, he's optimistic about the road ahead...
It's the night shift at Holby and Ollie Valentine is growing frustrated by his slow recovery following surgery to remove the bullet from his brain.
Ollie can't sleep and neither can Lofty's Grandma, Sheilagh. Already in hospital having suffered a mini stroke, Sheila has since had an unexplained fall, resulting in a fractured hand and split lip.
As they play games and eat snacks, Ollie notices Sheilagh's speech is muddled. Then, when she drops a mug, Ollie realises Sheilagh's having a full-blown stroke!
Ollie delights in telling neurosurgeon Roxanna MacMillan about successfully diagnosing Nan, wondering if this means he could soon be back at work. Roxanna urges him not to get carried away – but is she quietly optimistic?
Elsewhere, new medic Nicky wakes up in the on-call room, handcuffed to the bed, with very little recollection of what she did the night before. As she gets stuck into her first night shift on AAU, Nicky has to contend with Xavier, an arrogant new registrar, who seems to know more about Nicky's lost time than she does…
Also, as they grow ever closer, Jac and Fletch's friendship hits a rocky patch when he uncovers a secret she's been keeping from him. Will Jac ever truly let him in?
Get the latest updates, reviews and unmissable series to watch and more!
Thank you for signing up to Whattowatch. You will receive a verification email shortly.
There was a problem. Please refresh the page and try again.