One Hundred and One Dalmatians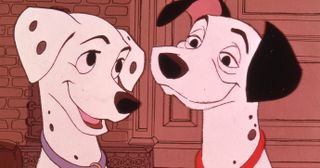 Colourful animation that presents a chocolate-box view of England, a good plot, a tremendous villainess and hilariously action-packed chase sequences all combine to make this 1961 Disney cartoon, based on Dodie Smith's book, a classic
Colourful animation that presents a chocolate-box view of England, a good plot, a tremendous villainess and hilariously action-packed chase sequences all combine to make this 1961 Disney cartoon, based on Dodie Smith's book, a classic. A litter of 15 Dalmatian puppies is stolen on the orders of evil schemer Cruella De Vil and whisked off to her home, Hell Hall, where they join dozens of other dogs that are destined to become Cruella's fur coat. She reckons, however, without the 'Twilight Bark', a series of cross-country messages sent by animals that culminates in a rescue bid by the pups' parents, Pongo and Perdita, a crafty cat called Sergeant Tibs, a haughty sheepdog known as The Colonel and sundry allies. Delightful characters and an unrelenting pace make this a film that will enchant all children.
Thank you for signing up to Whattowatch. You will receive a verification email shortly.
There was a problem. Please refresh the page and try again.