Paul O'Grady: For the Love of Dogs – ITV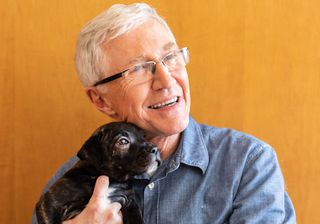 Paul's back with TLC (and carpentry skills) for some furry friends in a new series of Paul O'Grady: For the Love of Dogs on ITV
Paul O'Grady's back at Battersea Dogs & Cats Home to catch up with its residents in the eighth series of ITV's Paul O'Grady: For the Love of Dogs.
This first episode (see TV Guide for full listings) includes a lively litter of hand-reared Staffie pups (pictured with Paul, above) rejected by their mum.
They're soon rehomed but it can be much harder to do the same for older dogs, like 13-year-old mongrel Sunny, who has been prescribed heart tablets following a check-up ('I'm on the same gear,' Paul tells Sunny. 'We'll be fine').
Paul also visits the Brands Hatch branch, where he helps out anxious Jack Russell cross Archie by rolling up his sleeves and making him his very own set of steps.
Oh, and if you're worried about poor old Sunny, you'll be glad to hear he gets a happy ending.
Paul, 64, tells TV Times why this really is the best job in the world…
What did you enjoy most about returning to Battersea Dogs & Cats Home to film Paul O'Grady: For the Love of Dogs?
I always love meeting new dogs but the state some of them come to us in is horrific.
It never ceases to amaze me what abuse some dogs are put through.
This show strikes a chord with people because it's a real Cinderella story, where a little abandoned dog comes in, the staff make it better, then it goes off to a new home.
People always stop me in the street and say, 'You made me cry last night.'
But then they tell me it's such a lovely programme.
Are there stories in the series that really touched you?
Just when you think you've seen it all, another dog will come in and their poor condition just takes your breath away.
There's one dog, Lady, who came to us full of shotgun pellets.
And Splash, a terrier, was rescued from the River Thames.
This dog is so full of life and he's since been given a good home.
Why do dogs make great pets?
Dogs are loyal.
Although with my four at home, it's often a nightmare for me trying to do anything.
They follow me everywhere – while I'm in the shower or on the loo – and they'll constantly stare at me.
But I wouldn't have it any other way.
TV Times rating: ****
Get the What to Watch Newsletter
The latest updates, reviews and unmissable series to watch and more!