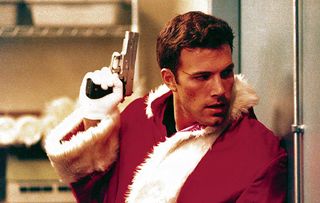 (Image credit: Alamy Stock Photo)
Just-released jailbird Ben Affleck assumes the identity of his murdered cellmate when he meets the latter's pen pal, Charlize Theron
Just-released jailbird Ben Affleck assumes the identity of his murdered cellmate when he meets the latter's pen pal, Charlize Theron.
However, his disguise also means becoming involved in a deadly casino robbery caper with Gary Sinise's bungling gang as he's a vital part of the plot.
Affleck shows his star quality in this ultra-sour action comedy, in which he has to think fast and keep smiling to stay alive.
Playfully directed by veteran action movie maestro John Frankenheimer, the plot is often surprisingly vicious and there's at least one twist too many. Nonetheless, it's keenly acted by all concerned and full of jokey Christmas-time details - including sundry red Santa suits.
The scene in which Affleck puts on a bearded cowboy disguise in Dennis Farina's casino is a comic gem and the ending is great.
Also known as Deception.
Get the What to Watch Newsletter
The latest updates, reviews and unmissable series to watch and more!