Ricki and the Flash - Paramount Network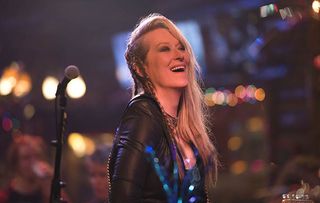 (Image credit: Bob Vergara)
Bedecked in leather jacket, braids and tattoos, Meryl Streep is a blast in this engaging comedy drama
Bedecked in leather jacket, braids and tattoos, Meryl Streep is a blast in this engaging comedy drama.
She plays singer Ricki, who gets drawn back into the lives of the family she abandoned to pursue her musical dreams, which didn't exactly work out.
Now working on the checkout of an upmarket California food store, she plays in a local bar with her band The Flash, alongside her lead guitarist and long-suffering boyfriend (Rick Springfield).
Then her starchy ex-husband (Kevin Kline) calls her back to her Indiana hometown to help her depressed daughter (Mamie Gummer, Streep's real-life daughter) cope with the break-up of her marriage.
The stony broke Ricki couldn't be more out of place in the affluent gated community where Kline lives with his second wife (Audra McDonald) and she is initially greeted with hostility by Gummer and by her similarly estranged sons (Sebastian Stan and Nick Westrate).
How Ricki and her family work out their differences proves amusing and touching by turn, though it's the musical numbers that are the film's main pleasures. Streep, who learned to play electric guitar for the role, belts through a string of rock classics with gutsy fervour, including Tom Petty's American Girl, U2's I Still Haven't Found What I'm Looking For and Bruce Springsteen's My Love Will Not Let You Down.
Get the latest updates, reviews and unmissable series to watch and more!
Thank you for signing up to Whattowatch. You will receive a verification email shortly.
There was a problem. Please refresh the page and try again.