The Rise of the Nazis - BBC2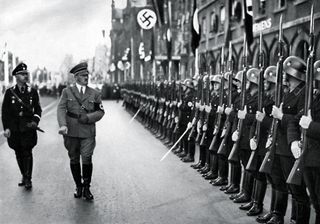 (Image credit: Alamy Stock Photo)
The Rise of the Nazis continues with Adolf Hitler gaining the position of Chancellor – the pieces are now nearly all in place
Victoria and Harlots actor Kate Fleetwood narrates the second episode in this excellent three-part series The Rise of the Nazis.
This week the focus is on the frighteningly short period between Hitler becoming German chancellor in January 1933 and the destruction of democracy.
This was brought about not just by Hitler himself, but also by ruthless, ambitious men who – craving power as much as he did – aimed to impress their Führer.
MORE: Greatest Events of World War Two
Hermann Göring became Hitler's fixer, using stormtroopers to round up thousands of communists, while head of the SS Heinrich Himmler came up with the idea of a concentration camp to "re-educate" prisoners.
Historians in the programme are at pains to remind us that there are vital lessons to be learnt here, not least that democracy should not be taken for granted.
TV Times rating: *****
Get the latest updates, reviews and unmissable series to watch and more!
Thank you for signing up to Whattowatch. You will receive a verification email shortly.
There was a problem. Please refresh the page and try again.