Ruhma works a tough shift at St Phil's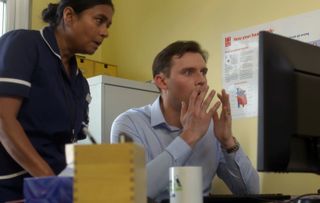 (Image credit: BBC)
Can Ruhma help a married doctor prove he's not been unfaithful to his wife?
Ruhma is working at St Phil's hospital when Dr Cridge, who is shouting at his computer next door, disturbs her consultation with a patient. Dr Cridge is hysterical - he's been sent an email with an attached photo that sees him standing next to a stripper but claims he's been Photoshopped into the picture. Can Ruhma help him prove his innocence?
Things get tricky, however, when a heavily pregnant young woman turns up at the hospital claiming she's pregnant with Dr Cridge's baby! As Dr Cridge denies the claims, his wife then turns up to the hospital! Is Dr Cridge being framed - or is he really an unfaithful husband?
Get the What to Watch Newsletter
The latest updates, reviews and unmissable series to watch and more!
Tobi Oredein is an award-winning women's lifestyle journalist, media entrepreneur and international public speaker based in London, who focuses on race, feminism, beauty politics & popular culture. Tobi has been commissioned by Buzzfeed, British Glamour, Grazia, Elle UK, Fader, The Debrief, The Independent, The Pool, Stylist, Vice and others. She has also interviewed public figures such as Ryan Coogler, Ava Duvernay and Sir Trevor McDonald.