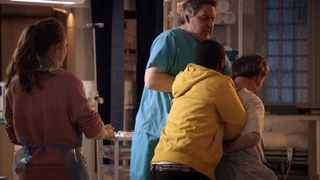 While Michael Spence is happy that incompetent trainee Ella Barnes has quit her job on AAU, Sacha strikes a deal with her: if she treats one more patient and it goes badly, she can leave, if it goes well, she stays. Ella's first task goes well, but her next patient, Colin, gets agitated when Arlo, the boyfriend of another patient, Hayah, notices him. Colin unnerves Ella, who rages at Sacha for making her stay when she's out of her depth. Sacha takes Ella up onto the roof to let off some steam and Ella returns to AAU to remove Colin's cyst herself. But when Hayah's condition worsens, Sacha has to leave Ella alone with Colin while he helps in the emergency. As Colin gloats over Arlo's misfortune, Arlo goes for Colin, who picks up Ella's scalpel. But as Sacha comes to break up the fight, he's stabbed by Arlo. Sacha collapses, begging for Ella's help - but Ella runs off. In theatre, Sacha's condition is critical - will he pull through? Meanwhile, Darwin is ushering in a new era of technology and Elliot is under pressure to keep up. When his computer distracts him enough to make a basic mistake, he's thrown into doubt about his future at Holby. Also, Frieda is caught between Ric and Serena as they both jostle for theatre time. Fed up with playing games, she finds herself making a surprising decision about her future.
Get the latest updates, reviews and unmissable series to watch and more!
Thank you for signing up to Whattowatch. You will receive a verification email shortly.
There was a problem. Please refresh the page and try again.