Same Kind of Different as Me - Sky Cinema Premiere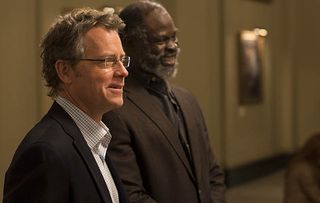 (Image credit: Paramount Pictures)
A rich Texan (Greg Kinnear) and a homeless black man (Djimon Hounsou) form an unlikely bond in this true-story, faith-based drama
A rich Texan (Greg Kinnear) and a homeless black man (Djimon Hounsou) form an unlikely bond in this true-story, faith-based drama.
Kinnear plays Ron Hall who, caught out in an affair by his wife Debbie (Renée Zellweger), is obliged as penance to help out at the Fort Worth homeless shelter where she volunteers. Initially reluctant to roll up his sleeves, he takes even more prodding to accost the shelter's scariest client, Hounsou's raging, baseball-bat wielding Denver Moore, nicknamed Suicide.
Denver has good reasons to be suspicious of white people, having survived a near-lynching in his youth as well as enduring years of grinding labour as a sharecropper and a decade in prison.
However, Debbie, convinced Denver is the figure that has appeared to her in a prophetic dream, takes pains to seek him out and insists Ron do the same. And, over time, an improbable bond forms.
Based on the bestselling memoir co-written by Hall and Moore, this is awkward in places, a tad bland and clichéd in others, but genuinely moving overall.
There's also no doubting the sincerity and quality of the performances. Kinnear is perfectly cast, while Zellweger radiates goodness as the gentle but firm, and remarkably understanding, spouse. Best of all is Hounsou, whose eyes in his early scenes convey a pain and fury that affords this otherwise feelgood film a glimpse of a harsher reality.
This film premieres on Sunday 22 July.
Thank you for signing up to Whattowatch. You will receive a verification email shortly.
There was a problem. Please refresh the page and try again.