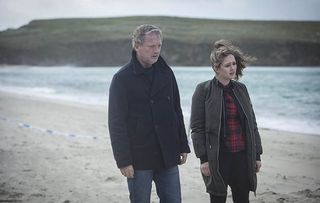 (Image credit: BBC/ITV Studios/Mark Mainz)
DI Jimmy Perez (Douglas Henshall) is in shock as this tense series of Shetland reaches a satisfying, devastating finale tonight
DI Jimmy Perez is in shock as this tense series of Shetland reaches a satisfying, devastating finale tonight
The hunt for abducted Zezi Ugra and the shadowy figure behind the human trafficking on Shetland draws to a tense conclusion, in an explosive finale to what has been a dark and compelling series.
When the team receive a surprising new lead about who could be behind the trafficking and the brutal murders, the discovery leaves Perez (Douglas Henshall) reeling and deeply troubled over who he can trust.
As more terrible evidence emerges, Perez battles to bring the perpetrator to justice and faces a race against time to find Zezi alive and reunite her with desperate mum Olivia (Rakie Ayola). And there's still another twist to come…
TV Times rating: ****
In an exclusive interview with TV Times, we asked Douglas, 53, to reveal all about what's to come in the finale, and the future for the crime drama…
What can you tell us about the final episode?
Nothing! We do wind everything up and the shocks come thick and fast. I hope it's satisfying.
People on social media have really enjoyed this series. Every Tuesday night after the show, I can't go through my messages because it freezes with the amount of traffic. It's crazy!
The case has been complex, involving both trafficking and gruesome murders. Is the revelation about who is responsible just as complicated?
Yes, that's almost a motif of Shetland: there are no clear-cut perpetrators and victims, apart from with the human trafficking, and, even with that, there's still ambiguity because you can't get to the heart of it; it's too big.
With the murder stories we've done previously, we've had sympathy for both sides and that's no different this time around.
Will we see the impact on Perez as he makes a last-ditch attempt to locate missing Zezi?
I think his sanity depends on finding her. But the toll that takes on him is pretty terrible…
He also thinks there's a leak revealing things about the case, but there's such a narrow field as to who the leak might be, it will be awful for him whoever it is.
Nothing good seems to happen to Perez! All he keeps getting is bad news. By the end of filming, I was battle weary.
We'd love you to make more Shetland – would you be up for filming another series?
I always think as long as the ambition is there to keep making the show stronger and better and not just have a returning series with a format and go through the motions again, then there's a point to coming back.
If I felt we were becoming tired, I wouldn't do it. I don't think we can keep going for ever; there comes a moment when you have to call time on all good things and go before people are ready.
It'd be nice to come back and wrap it up, though, because the characters and the show deserve it.
As TV Times Highlights Editor I get to hear about all the latest TV shows coming soon. Here at TVT HQ we are in the privileged position of selecting the best programmes from across all the channels and streaming platforms. Our mission is to make it easier for our readers to decide what to watch - and give them lots of choice of genres - all the latest shows, plus some nostalgic choices we call hidden gems, too. My career began with a postgraduate degree in periodical journalism (ahem, yes old school!) in 1991 and I've worked in TV media since 2000.
Get the latest updates, reviews and unmissable series to watch and more!
Thank you for signing up to Whattowatch. You will receive a verification email shortly.
There was a problem. Please refresh the page and try again.