The Somme: The First 24 Hours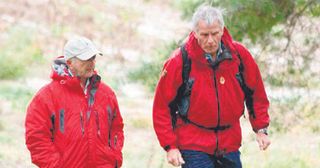 Tony Robinson focuses on the story of a real Private, Frank Meakin, who kept a remarkable personal diary during the Battle of the Somme
Tony Robinson memorably played Private Baldrick in World War One-set Blackadder Goes Forth and here he focuses on the story of a real Private, Frank Meakin, who kept a remarkable personal diary during the Battle of the Somme. The architect, who risked the wrath of superiors by penning his diary, had signed up to the new Sheffield City Battalion along with friends and colleagues. Frank writes about how he amazingly managed to survive the first day of the Battle of the Somme, ducking and weaving to avoid German fire, while so many of his friends died. In this engaging documentary, Tony visits the battlefield and paints a grim picture of the impossible situation the British troops faced during the deadly first few hours.
Thank you for signing up to Whattowatch. You will receive a verification email shortly.
There was a problem. Please refresh the page and try again.