Steph and Dom: Can Cannabis Save Our Son? – C4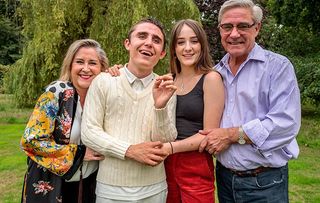 (Image credit: C4)
Steph and Dom Parker champion medicinal cannabis in Channel 4's Can Cannabis Save Our Son
Steph and Dom Parker champion medicinal cannabis in Channel 4's Can Cannabis Save Our Son
Medicinal cannabis has made plenty of headlines recently. It was finally legalised in Britain last year, but due to red tape there's no chance of it arriving in pharmacies any time soon.
In this moving documentary, former Gogglebox stars Steph and Dom Parker find out more about a product that could change the life of their 18-year-old son, who's been left brain-damaged by years of severe epileptic seizures.
As they meet families whose loved ones have been saved by cannabis oil, they begin to question the stigma attached to the drug and wonder what people are so afraid of…
TV Times rating: *****
Here, in an interview with TV Times, Dom, 54, tells us more…
Why did you decide to do this documentary?
We've made a point of keeping Max and his condition private from the media, because we didn't want him to be involved in that part of our lives.
But then we thought that if ever there was a time for us to draw attention to a product that could make a huge difference to people's lives, this was it.
How did you find the process of making the programme?
It was tougher than we expected. We had to relive some hideous experiences from down the years, but it was also very cathartic to put those memories to bed.
We think Max would be very proud if this could make a difference in some way and help other people.
Cameras follow you as you travel across the UK and the US to meet people who have been prescribed cannabis oil, to see how effective it could be…
We met a few families who've used cannabis oil with great success, including a young man in America called Sam whose seizures have completely stopped.
He explained that he had no memory of his seizures, which was comforting in some ways, but hard in others because you worry that means Max doesn't remember other things.
It gave us plenty of food for thought and hope for the future, because it showed how effective cannabis oil can be, in the right conditions.
Do you think there's still a stigma attached to medicinal cannabis in this country?
Yes, I do, although I'd call it fear and ignorance, pure and simple.
Cannabis oil might be extracted from the same plant as marijuana but it contains no THC, which is the psychoactive substance that gets you high when you smoke it.
It's like a stinging nettle without the sting. Indeed, if you wanted to get a buzz, you'd be better off drinking a bottle of cough syrup than a pint of cannabis oil.
Cannabis oil was legalised for medicinal purposes in the UK last year. Were you pleased?
I was, but it's still impossible to get a prescription for it.
There are lots of decisions that need to be made about its production and regulation, which means it won't be around for months or years in this country. It's very frustrating for us and others in the same position.
Rather than the final hurdle, it's another step on the journey, but we won't give up.
Get the latest updates, reviews and unmissable series to watch and more!
Thank you for signing up to Whattowatch. You will receive a verification email shortly.
There was a problem. Please refresh the page and try again.