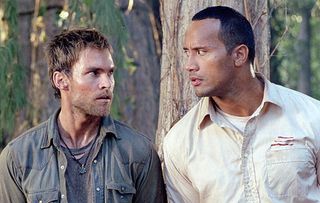 (Image credit: Snap Stills/REX/Shutterstock)
There are well-staged fights and comedy a-plenty when The Rock and Seann William Scott team up in this exuberant action comedy
There are well-staged fights and comedy a-plenty when The Rock and Seann William Scott team up in this exuberant action comedy.
In his second starring role (following The Scorpion King), The Rock brings some granite-like authority to a knockabout story that has only one aim - to give him a major spot of bother every 10 minutes or so.
In the opening nightclub scene (spot Arnold Schwarzenegger in a cameo), he floors an entire squad of bodyguards and then he's off to the Brazilian jungle, where his mission is to trace his boss's son, treasure-hunter Scott.
But things soon prove a lot more complicated, with the locals, led by bar-girl Rosario Dawson, battling the iron rule of a corrupt mine-owner (a scene-stealing Christopher Walken), who's paying the peasants peanuts as they dig for gold.
Also known as Welcome to the Jungle.
Get the latest updates, reviews and unmissable series to watch and more!
Thank you for signing up to Whattowatch. You will receive a verification email shortly.
There was a problem. Please refresh the page and try again.