Tiananmen: The People v the Party - BBC4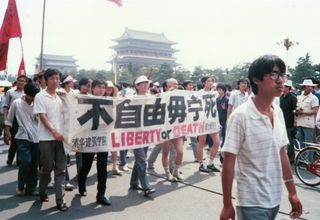 (Image credit: BBC/PBS International/Robin Munro)
Tiananmen: The People v the Party recalls the terrible events of 30 ago in Beijing's Tiananmen Square in 1989
Tiananmen: The People v the Party recalls the murderous events of 30 years ago in Beijing. And with the political temperature in Hong Kong currently raised, the question that this Storyville film raises has to be: could it happen again?
On 4 June 1989 thousands of protestors, mainly young students, gathered in Tiananmen Square, Beijing, to protest about official corruption and the slow pace of economic change.
The Chinese government responded with deadly force and many demonstrators were killed. Although how many is still disputed as no official death toll has ever been released.
This cutdown of a two-part film first shown in France and Germany uses eyewitness accounts and leaked secret documents to try and understand what really happened when the people tried to take on The Party.
TV Times rating: ***
I Was There: Kate Adie on Tiananmen Square follows at 10.30pm. The legendary BBC reporter recalls finding herself in the thick of the fray as the events in China played out
Get the latest updates, reviews and unmissable series to watch and more!
Thank you for signing up to Whattowatch. You will receive a verification email shortly.
There was a problem. Please refresh the page and try again.