Tiffany Butcher puts herself in danger to stop Whitney!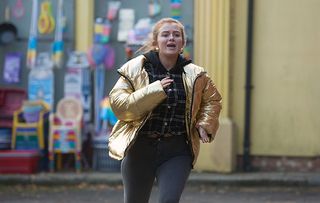 (Image credit: BBC / Jack Barnes)
Tiffany almost gets run over trying to stop Whitney leaving the Square and heading to Milton Keynes to talk to Bianca.
Whitney is determined to get to the bottom of what's been going on with Tiffany and Bianca. She tests the water with Sonia in a bid to find out if she's heard anything, but doesn't get very far. Postponing her trip to Wakefield, Whitney decides to visits Bianca in Milton Keynes to find out more. When Tiffany works out that Whitney is heading to the station, she chases after her – and almost gets run over! Will Whitney go to Milton Keynes or trust in Tiff?
The Brannings are getting increasingly worried about Max, who is so desperate to save Abi, it seems he'll do almost anything. When he gets to the hospital, his insistence that he can help his daughter is thwarted, when the doctor yet again insists that nothing can be done. Max won't give up, but the doctor gives him a harsh reality check. When Max threatens the doctor, Lauren is forced to step in and make Max see the truth…
Masood needs a place to live and asks his Aunty Mariam and Uncle Arshad if he can move in with them. When they ask him for rent money he is taken aback! Realising he's got to get himself a job, he goes to the Vic to ask Linda for a trial. Linda is worried that Mariam might have told Masood about the shooting, and gives him a trial to keep him sweet. Aware that Mariam would be horrified at the thought of him working in a pub, Masood lies that he's got a trial with an estate agent!
Get the latest updates, reviews and unmissable series to watch and more!
Thank you for signing up to Whattowatch. You will receive a verification email shortly.
There was a problem. Please refresh the page and try again.