Train Truckers – Yesterday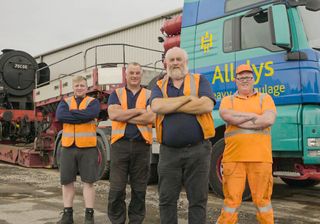 New Yesterday documentary series Train Truckers follows a family-run haulage firm specialising in the longest and heaviest of vehicles
Big trucks… steam trains… tricky engineering problems… Yesterday's new six-part series Train Truckers ticks all those boxes as cameras follow Allelys, a firm of heavy-haulage specialists who transport historic locomotives all over the world.
The first episode sees Terry and Jason (pictured above with the rest of the team) moving legendary steam engine Britannia from Crewe, where the 68-year-old vehicle has been lovingly restored, to the Severn Valley Railway in Kidderminster, where it will start running again.
It's no easy task – there's 70 miles of rush-hour city-centre traffic, and a few impatient drivers to negotiate.
And in Stratford-upon-Avon, a prototype battery-powered commuter train made from an old London Tube engine has to be transported 422 miles to its official launch in Scotland.
But with some of the roads too weak to be able to withstand this massive load, a more convoluted route has to be taken – and using two trucks.
How will Allelys' Gavin and Callum cope with such a mammoth task?
TV Times rating: ****
Thank you for signing up to Whattowatch. You will receive a verification email shortly.
There was a problem. Please refresh the page and try again.