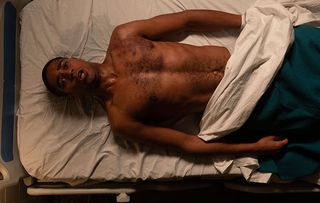 (Image credit: BBC/©Red Production Company)
A second series of BBC1 hospital drama Trust Me, this time starring Alfred Enoch, John Hannah and Ashley Jensen, will give you the shivers
A second series of BBC1 hospital drama Trust Me, this time starring Alfred Enoch, John Hannah and Ashley Jensen, will give you the shivers
Series one of medical thriller Trust Me followed a nurse, Cath (played by Doctor Who's Jodie Whittaker), who lost her job for being a whistleblower, then stole the identity of a doctor.
And while series two shares the same name and writer – Good Karma Hospital creator Dan Sefton – it features an all-new cast and a totally different story, albeit one still involving strange goings-on in a Scottish hospital.
Harry Potter star Alfred Enoch plays paralysed soldier Jamie McCain, who is undergoing rehab in a ward with an unusually high mortality rate.
Is there an 'Angel of Death' at large, or is he simply imagining it?
Rising star Alfred – best known for playing Dean Thomas in the Harry Potter films and Wes Gibbins in US crime drama How to Get Away with Murder – is joined by John Hannah (The Victim) as Dr Archie Watson, and Ashley Jensen (After Life, Agatha Raisin) as physiotherapist Debbie Dorrell.
On location in Glasgow, TV Times sat down with Alfred, 30, and John, 56, to get a prognosis for the revamped Trust Me…
Jamie is recovering from a spinal injury that has left him temporarily paralysed. What brings him to this hospital?
He was injured while on active duty in Afghanistan.
His fracture was stabilised there, and he's been flown back to a civilian hospital in the UK to continue his treatment and his rehab.
How would you describe Jamie?
I really don't think Jamie's equipped to deal with the situation he's in.
He's a difficult man at the best of times.
But his integrity is the thing that guides him through life.
It was quite a fascinating challenge playing him, because physically Jamie is very restricted for most of the show.
He's a man out of his own space and out of his comfort zone.
Physicality is so much part of his identity.
John, what is Archie like?
Archie thinks he's well liked, but he does seem to exist a little bit within his own bubble.
I don't think at this point he's a particularly caring person.
It's not that he's callous or useless, he's just not really a people person.
He feels that he's a little bit more like a management-type character than a medical practitioner.
Ticking boxes, achieving goals, rather than making sure everybody feels nice, happy, well fed and looked after.
Did you do any special research?
Not particularly, but I remember years ago I was playing a surgeon in a US medical drama and I went to observe open-heart surgery.
I was just praying I didn't faint!
TV Times rating: ****
Get the latest updates, reviews and unmissable series to watch and more!
Thank you for signing up to Whattowatch. You will receive a verification email shortly.
There was a problem. Please refresh the page and try again.