Undiscovered Worlds with Steve Backshall - BBC2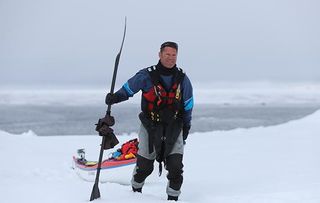 (Image credit: BBC)
The go-anywhere, do-anything explorer heads to the Arctic to see the effect of climate change at first hand
Donning his warmest gear and psyching himself up for tough times ahead, Steve Backshall heads to the Arctic for Undiscovered Worlds with Steve Backshall
In new documentary series Undiscovered Worlds with Steve Backshall, adventurer Steve Backshall heads into the Arctic to witness the impact of climate change.
After leaving a small town in Greenland, the most remote settlement in the Western world, the aim is to kayak up a giant fjord, braving the cold, wind and shifting sea ice, which could trap and crush a kayak in minutes.
There's an eerie and haunting feeling as danger constantly lurks all around in this stunning but dangerous and fragile landscape.
During the first night a hungry polar bear comes calling. As Steve recalls: "It was scary! I guess you go into that part of the world knowing that polar bears are around, but you don't want quite that experience. It was full on!"
And Steve explains that it's as a direct result of climate change that such encounters are more likely to happen: "Unfortunately the changes in the Arctic are happening so quickly that bears are coming increasingly into contact with human beings and the potential outcomes aren't great.
"Food is so scarce, and he just had no option but to try out everything that could be food – and that was us!"
But the scariest thing Steve found wasn't actually the threat from wildlife but its absence.
With the sea ice breaking up earlier than ever before, the impact on animals is catastrophic and the consequences for the planet as a whole are incredibly frightening.
TV Times rating: ****
Part one of a four part series. Continues next week on BBC2
Get the latest updates, reviews and unmissable series to watch and more!
Thank you for signing up to Whattowatch. You will receive a verification email shortly.
There was a problem. Please refresh the page and try again.