Vincent gets a shocking birthday gift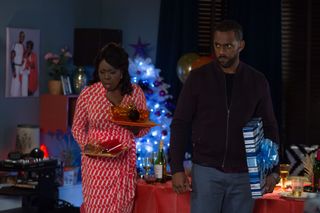 (Image credit: BBC/Jack Barnes)
It's Vincent's birthday, but he's not in the best of moods as Ronnie has him over a barrel when she insists he give her all his files on the Mitchells in exchange for the gun and drugs. Vincent's day gets even worse as his police contact Pike phones to say they don't want his help any more. At his birthday party, Vincent tells an infuriated Claudette that he'll be concentrating on his family from now on. Kim opens a horrifying present for Vincent - a pig's head!
Denise is surprised when Libby arrives to visit the family. When it becomes clear that Patrick asked Libby to talk to Denise about Kim, Denise is frustrated. Libby and Denise head to the cafe for a heart-to-heart, where Libby confesses that Chelsea has spoken to Jordan, who is now in Spain. After some encouragement from her daughter, Denise agrees to go to Vincent's birthday party and make amends with Kim. Talking about Jordan has given Denise food for thought and she wonders whether to reach out to Lucas for help with his son.
Kathy confronts Phil over the way he's brought up Ben. When she talks to Phil about Ben's sexuality, Ben and Abi overhear. Worried her outburst has pushed away Ben for good, Kathy confides in Jane, who promises to be there for her. Trying to make things right with Abi, Ben insists Kathy is wrong and that he loves Abi.
Get the latest updates, reviews and unmissable series to watch and more!
Thank you for signing up to Whattowatch. You will receive a verification email shortly.
There was a problem. Please refresh the page and try again.