What will Mick do about Sylvie?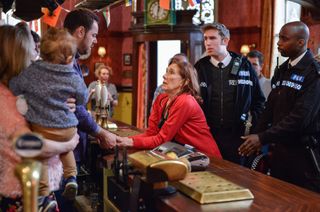 The Carters are stunned to see Sylvie, who has wandered away from her care home. Along with the family's concern, it's clear Babe isn't happy to see her. Eventually a social worker turns up, revealing that Sylvie has been upsetting the care home residents. When Babe fumes after Mick and Linda agree to let Sylvie stay the night until they find another option, Linda starts to have doubts.
Bobby pleads guilty at his hearing and is sentenced to three years in prison. After the sentencing, Ian is approached by Keeble as he struggles to come to terms with the news. Asked when he found out that Bobby murdered Lucy, Ian is forced to admit the awful truth. Jane is just as devastated as Ian, but there's a glimmer of hope for them both when Jane is able to squeeze Ian's hand.
Sonia invites Shakil to a family meal after a plea from Martin to help sort out Bex. Although the meal gets off to a good start, Martin and Shakil start to argue, forcing Sonia to step in. After peace is achieved, Bex thanks Sonia for helping her out. Realising how much her daughter needs her, Sonia arranges to see the surgeon about a preventative mastectomy.
Get the What to Watch Newsletter
The latest updates, reviews and unmissable series to watch and more!