What's troubling Sacha in Holby?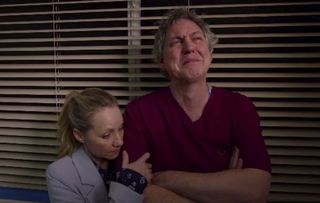 The medic's strange behaviour unearths a major problem…
Sacha Levy has always been Holby's Mr Happy-Go-Lucky, but Essie immediately suspects all is not well when she notices he hasn't combed his hair or changed out of the previous day's shirt. And his usual caring bedside manner is notably absent as he treats patient, Laura, who's refusing to be put under general anaesthetic to have a polyp removed from her bowel.
Sacha does little to make Laura see sense and he's irritated and impatient. To make matters worse, following Laura's surgery, the always-honest Sacha is then caught trying to steal a bottle of wine from Albie's! Essie's worried these are all signs that Sacha's suffering from depression. But as she stages an intervention with Jac, Sacha won't admit he has a problem.
Later, however, Sacha's forced to confess that he's been stealing things to stop himself feeling lost and empty, and breaks down in tears. Can Essie help Sacha get the support he needs?
Meanwhile, Jac and Matteo's relationship is still fraught following Jac's shock discovery about his past. When they clash over a pioneering procedure, however, it's clear their personal feelings are getting in the way of their professional relationship. Will they be able to work together?
Also, with Serena gone, Ric's determined to run AAU like a tight ship. But just as he begins to get things in order, a surprise guest turns up and really throws a spanner in the works…
Get the latest updates, reviews and unmissable series to watch and more!
Thank you for signing up to Whattowatch. You will receive a verification email shortly.
There was a problem. Please refresh the page and try again.