Will Roxy get back in touch with Andy?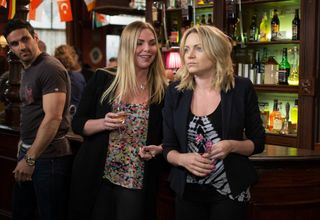 Ronnie is concerned about Roxy, taking her out for drinks to talk to her about Andy. Although Roxy refuses to open up, she takes on board Ronnie's advice, finally messaging Andy. Meanwhile, Andy is visiting his father, passing on the news that the plan is going well and he's getting closer to Ronnie…
Donna feels mortified about trying to kiss Kush and asking him to have a baby with her. While babysitting Pearl, Donna confesses to Pam that she really wants a child. When the market continues to deteriorate without a market inspector, Pam suggests that Donna offer to take on the role. After telling Vincent about the new development, Donna drops a bombshell, asking him to be the father of her baby!
Lauren is stunned when she finds out that Max has put a block on her and Abi visiting him in prison. Turning to Kathy for support, Lauren is given food for thought when Kathy reminds her she's a Beale now, too. Pulling herself together, Lauren offers to help out at the restaurant.
Also, Pam comes clean to Paul about Babe's blackmail. Meanwhile, when Kim is revealed as the tutor for the salsa class, she and Carmel clash over technique!
Get the latest updates, reviews and unmissable series to watch and more!
Thank you for signing up to Whattowatch. You will receive a verification email shortly.
There was a problem. Please refresh the page and try again.