A Million Little Things season 5 episode 5: Eddie goes back to school
A familiar face helps Eddie out.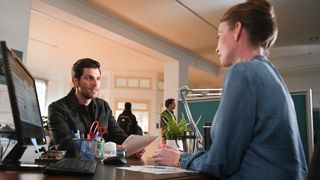 (Image credit: ABC/Sergei Bachlakov)
NOTE: this post contains spoilers for A Million Little Things season 5 episode 5, "No Place Like Home."
It is clear that Maggie (Allison Miller) and Gary (James Roday Rodriguez) are not on the same page when it comes to their birth plan, which could be a major problem considering what happens in the final moments of the episode...
Maggie and Gary's love prevails
After dinner with Claire (Johanna Brady) and Evan (Ty Barnett), Maggie once again brings up the topic of having a home birth. Gary is still protesting it but eventually agrees to meet with the midwife. However, he comes prepared with home births gone wrong, sabotaging the meeting and leading to a heated argument between the couple.
Gary then goes to see their doctor, asking for his opinion on the whole debate. The message is clear: Maggie's comfort needs to be the priority for a safe birth. When he gets home, she's notably upset on the couch and we find out that Claire was rushed to the hospital after something went wrong with the birth.
Luckily, the surgery is successful and both the mother and baby are healthy. Maggie is prepared to switch back to the hospital, but Gary is putting the option of a home birth back on the table for her. Regardless of where they have their baby, Gary promises she has his support and that's all that matters.
It's perfect timing too considering the episode ends with Maggie having a contraction.
Regina helps out an old friend
Dustin (Donald Sales) explains to Regina (Christina Moses) that between missing too many days at work and hospital bills piling up, he got an eviction notice. His daughter is with his mother-in-law and the shelters are too full for him to get a spot. He assures Gina that he has an interview in a couple of days and just needs some time.
Later on, she finds Dustin by his truck and realizes that his daughter is with him, living in the vehicle. With the truth now out in the open, Regina continues to try to convince him to go to a shelter, but the father is worried about CPS taking his daughter away. Never being one to give up, she gets them a hotel room with her airline miles.
Walter's heartbreaking confession
Rome (Romany Malco) and Regina have officially moved Walter (Lou Beatty Jr.) in, but it's clear he's still not completely sold on the idea. Sophie (Lizzy Greene) spends the day with him and he continues to insist he does not need a babysitter, but considering she's already been through this with her own grandfather, she knows how to deal with it.
She acts more like a friend, the two enjoying his record collection. Sophie opens up about her date and Walter tells her about meeting his late wife, using it to give the younger girl some advice. When Rome gets home, the two of them are singing, but the nice scene comes to an end rather quickly when Walter mentions his wife coming home. Sophie tells Rome her grandfather's nurse told her that correcting him could lead to more frustration and confusion.
During a discussion with his son, Walter admits the reason he doesn't want to stay is he's afraid that he won't know where he is when he wakes up. Rome comes up with a solution: he'll hang up pictures so the room feels familiar and safe.
Eddie's big choice
Theo (Tristan Byon) gives Eddie (David Giuntoli) a care package for his first day of college, which includes highlighters and fruit snacks. Eddie then shares that the class he needs to take is already full and he goes to the registrar's office to see if there's any way they will let him in. Of course, there's a list of students ahead of him, but then Nicole, the woman who hit Eddie with her car, recognizes him and adds him to the behavioral psych class.
This all makes him late to the class, which does not make for a great start with the teacher. She makes it a point to ignore him while all of the other students are invited to share. It only gets worse when he then interrupts the class with a text he got. He tries to apologize, but the teacher isn't entertaining it. She hands Eddie a drop form, telling her that this is what she would tell any other student.
He definitely considers it, but in the end, he throws the form out after reading Theo's note that says how proud he is of his father.
New episodes of A Million Little Things premiere Wednesdays at 10 pm ET/PT on ABC and are available on-demand on Hulu the day after they air live.
Get the What to Watch Newsletter
The latest updates, reviews and unmissable series to watch and more!
Sophia Soto has a passion for all things entertainment. She is a member of The Hollywood Critics Association and currently writes for The Nerds of Color. You can also see her work on What To Watch, Remezcla, Looper, Den of Geek, Young Hollywood and more. Some of her favorite shows include Grey's Anatomy, The Goldbergs, Riverdale and Roswell, New Mexico. She is a complete Marvel nerd as well!