A Million Little Things season 5 episode 6: it's baby time for Gary and Maggie
It's finally time for Gary and Maggie to welcome their son.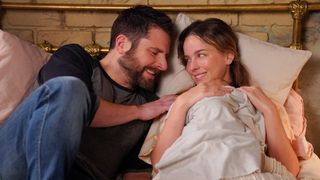 (Image credit: ABC/Darko Sikman)
NOTE: this post contains spoilers for A Million Little Things season 5 episode 6, "Mic Drop."
Maggie (Allison Miller) steps away from the microphone and into motherhood with Gary (James Roday Rodriguez) by her side through it all on the March 15 episode of A Million Little Things. Katherine (Grace Park) also has a life-changing surprise for Greta (Cameron Esposito). Meanwhile, Eddie (David Giuntoli) realizes who is missing from his life.
Gary and Maggie meet their son
To Maggie's relief, the end of the last episode was simply Braxton-Hicks, aka dress rehearsal contractions, which means she has the chance to sign off on her radio show before her maternity leave. Her boss insists this is a great opportunity for Dr. Jessica to shadow her before she steps in, which is the last thing Maggie wants.
Gary, however, is in full-blown panic mode. After Eddie shares his own experience with Braxton-Hicks, the father-to-be makes an appearance at the station, too scared to let Maggie out of his sight. Maggie refuses to leave a second before she has to, only giving in after Dr. Jessica apologizes for how she handled everything and expresses she was just eager to bring representation to the radio. She continues to assure Maggie that she will take care of things and make sure it's here when she is ready to come back.
Just as Maggie passes the mic, her water breaks. When the couple gets home, Eddie and Rome (Romany Malco) are kicked out, but Gary asks then to stay close by. They don't hesitate to agree, later joined by the rest of their friends. During the labor, the midwife shares that the baby's shoulder is stuck. But with Maggie in a different position, their son is born healthy and they don't have to go to a hospital.
Javier Chad Mendez, named after Gary's father and Maggie's brother, is welcomed to the world.
Katherine and Greta are one step closer to a happy ending
What's better than a surprise birthday trip to Martha's Vineyard? Katherine has it all planned out for Greta, including driving in the same car that her girlfriend had in high school. The car ends up breaking down, but we later discover that was intentional, as it stops right by the beach where Greta previously had asked Katherine to homecoming.
Katherine uses it to explain what a mistake she made back then and confesses there was no better place to make it up to her. She gets down on one knee and proposes, ready to keep the joy she has found in her life. Greta says yes as if it's the easiest question in the world.
Later on, we find out that Eddie actually helped plan the proposal.
Eddie has regrets
Eddie finally lets out the anger he had buried about missing so much time with Charlie. Delilah (Stephanie Szostak) told Maggie and Gary that they could take anything they wanted for the baby and he can't help but read into the fact that it's like his daughter's life here never existed. Rome encourages Eddie to talk to Delilah, promising it's never too late when it comes to your kids and parenthood.
After Javier's birth, Delilah FaceTimes him and he's ready to do just that. He doesn't actually get a chance to start the conversation before it's revealed that she sold the house, commenting on how it'll all be behind her now.
Regina and Rome remember what matters
Rome is not happy when he finds out that Regina (Christina Moses) used the points they were saving up for their dream trip to help Dustin and his daughter. Unfortunately, Dustin's job interview fell threw and he decided to check out of the hotel, only telling Regina after the fact. All she asks is that he thinks about foster care until he can get back on his feet.
Tyrell (Adam Swain) comes home for a surprise visit, intending to take Valli to the school formal. But after finding out that his girlfriend is going to the dance with another guy, Tyrell gives Sophie (Lizzy Greene) the corsage and they plan to see each other at one of her band's upcoming concerts.
Seeing Regina and Tyrell together made Dustin consider the idea of foster care for his daughter, but Val decides to offer her home to the two of them so that they won't be separated.
By the end of the episode, Regina and Rome make up and have their own small getaway planned to get some alone time.
New episodes of A Million Little Things premiere Wednesdays at 10 pm ET/PT on ABC and are available on-demand on Hulu the day after they air live.
Get the What to Watch Newsletter
The latest updates, reviews and unmissable series to watch and more!
Sophia Soto has a passion for all things entertainment. She is a member of The Hollywood Critics Association and currently writes for The Nerds of Color. You can also see her work on What To Watch, Remezcla, Looper, Den of Geek, Young Hollywood and more. Some of her favorite shows include Grey's Anatomy, The Goldbergs, Riverdale and Roswell, New Mexico. She is a complete Marvel nerd as well!