Amanda Henderson — things you didn't know about the Casualty star
Amanda Henderson has played ED nurse Robyn Miller for 10 years, but what else is there to know about her?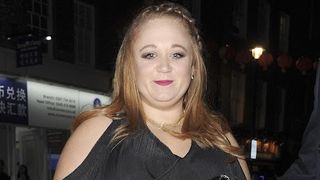 (Image credit: Alamy)
Amanda Henderson is best known for playing staff nurse Robyn Miller in BBC One's Casualty, a role which she's held for a decade.
The Manchester-born actress, who trained in musical theatre, started her career on the stage, before joining the cast of the long-running medical drama.
"Casualty has completely changed my life," Amanda revealed in an interview with What to Watch to celebrate her 10-year anniversary. "Landing a regular role on Saturday night primetime TV — I can't complain! Even after ten years Casualty still surprises me every day."
Away from her day job, the star loves indulging in her passions — which include open-water swimming and adventures in her beloved campervan.
Here are a few things you may not know about Amanda...
Amanda Henderson started her career in musical theatre
Amanda Henderson was born on September 26, 1986, and was always destined to be an actress. Growing up in Bury, Manchester, both of her parents were involved with amateur dramatics, so young Amanda followed in their footsteps and started performing in shows from the tender age of four.
She credits actress Julie Walters and the late Victoria Wood as being her biggest influences growing up.
After training in musical theatre at the Arden School of Theatre in Manchester, Amanda landed roles in the West End musical Oliver! and was a member of the ensemble in the 2012 Academy award-winning movie Les Misérables.
When asked by #CheerUpCharlie interviewer Charlie Kristensen whether she prefers working in TV or on stage, Amanda said: "I can never answer that question because they're so different. I like the natural aspect of TV, but I love the adrenaline and rush you get from being on the stage. It's so exciting."
She's starred in Casualty's sister show Holby City
Amanda is one of Casualty's longest-serving cast members, having joined the BBC medical drama back in 2012.
Her character, staff nurse Robyn Miller, made her on-screen debut in January 2013 and was an instant hit with the fans, earning Amanda a nomination for Best Newcomer at the 2014 National Television Awards.
The actress has also appeared as Robyn in Casualty's former spin-off series, Holby City for episodes in 2017, 2018 and 2019.
She's a fan of open water swimming
Last year Amanda bravely opened up about her mental health struggles on her Instagram account, and championed the benefits of open water swimming.
Alongside a picture of her in the sea, Amanda penned a candid post, admitting: "My mental health can be all over the place... Panic attacks have stopped me working. Depression has stopped me seeing people I love. And made me feel alone. But it's not who I am. I am more than this."
The actress, who is a member of the Dawnstalkers Sea Swim Club, and regularly shares pictures of her cold swimming adventures revealed her hobby has given her a 'sense of calm and purpose and revitalisation', and given her friends for life.
She added: "It turned my life around. And for that I'm so grateful."

Her mistake on Mastermind became an internet sensation
Amanda provided us with one of the TV highlights of 2020 when she appeared as a contestant on BBC quiz show, Celebrity Mastermind.
After smashing her specialist subject round — which was songs from animated Disney films from 1989-1999 — Amanda found the general knowledge round slightly more challenging.
When asked by host John Humphries which Swedish climate change activist wrote the 2019 book No-one is Too Small to Make A Difference — correct answer Greta Thunberg — Amanda hilariously answered: "Sharon".
A clip of Amanda's mistake went viral on social media, and Greta herself saw the funny side — even temporarily changing her name on Twitter to Sharon!
She's learning to speak Welsh
After spending the past decade of her life filming Casualty at the BBC in Cardiff, last year Amanda decided she wanted to start learning Welsh.
"I feel like I'm almost truly Welsh," the Mancunian actress told Cambrian News. "A lot of the people I work with are first language Welsh speakers — so just to be able to fully converse in Welsh with someone — I think I'll be so proud of myself when I get to that point. And I'll say 'when' not 'if'!
Having undergone intensive lessons with Aaron Jones from SaySomethinginWelsh, Amanda is now well on her way to mastering another language. And her journey was featured in an episode of the third series of S4C programme Iaith ar Daith.
She'd love to do a musical episode of Casualty
Amanda's character Robyn has packed a lot into her 10 years working at Holby City Hospital. But the actress has ambitions of being able to showcase her musical theatre training on the show!
Discussing her dream Casualty storyline, Amanda told us: "I want to see Robyn doing amateur dramatics. I think she'd be a wonderful, tap-dancing, chorus girl!"
"Shaheen Jafargholi and I put forward a story where Robyn and Marty go on holiday somewhere hot. And I've been asking for a musical episode for ten years. So far, no luck on those!"
Come on, Casualty, let's make it happen!
She's the proud owner of a VW campervan
When she's not busying filming scenes with Casualty, Amanda loves nothing more than going on adventures in her VW campervan.
The actress acquired the snazzy vehicle, which she's fondly named Roger Jean Claude Crumpervan, last year and has been enjoying lots of beach camping trips with her buddies.
Amanda regularly posts snaps of her adventures in Roger on her Instagram account, which include overnight stays in picturesque Tenby and The Gower.
Amanda Henderson's fact file
Frequently asked questions about the star...
How old is Amanda Henderson?
Amanda Henderson is 36. She was born on 26th September, 1986.
Is Amanda Henderson married?
No. Amanda Henderson is not married.
Does Amanda Henderson have any children?
No. Amanda Henderson does not have any children.
Where was Amanda Henderson born?
Amanda Henderson was born in Manchester.
Instagram: @ahendersonofficial
Twitter: @Amandahendrson
We work hard to ensure that all information is correct. Facts that change over time, such as age, will be correct, to the best of our knowledge, at the time of the last article update.
Get the What to Watch Newsletter
The latest updates, reviews and unmissable series to watch and more!
Laura has been a journalist for over a decade, writing about soaps, TV entertainment, fashion, beauty, and food. After graduating from university, she started her career working at a national soap and TV magazine. During her seven-year stint there she joined the cast of Emmerdale for a tour around the famous village, partied with soap stars at awards bashes, interviewed her acting idol David Suchet, and sat in the front row of Strictly Come Dancing.
Her heart lies with the soaps, and her all-time favourite character has to be EastEnders' Pat Butcher - no one rocked a big earring quite like her. She's also a huge fan of detective crime dramas, particularly old school Inspector Morse, Endeavour, and adaptations of Agatha Christie's Marple and Poirot. When she's not writing, she loves a spot of second-hand shopping and going on adventures with her young son.