When is Casualty next on? Here's our guide to every episode in 2023
When is Casualty next on? Never miss an episode of Casualty with our guide to the iconic medical drama's 2023 schedule.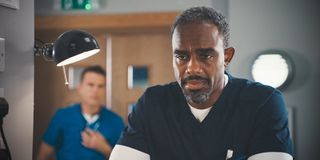 (Image credit: BBC)
Sometimes Casualty bounces around in the schedules — but you never have to miss an episode in 2023 because we've put together a handy guide to when and where you can catch all the drama at Holby ED!
Please note: This is a live document that will be updated on a regular basis. We will bring you the latest transmission times as soon as we have them.
When is Casualty next on?
Baby, I Don't Care - Saturday 01 April 2023 at 8.25pm on BBC One:
TWO shock arrivals force nurse Faith Cadogan to face her deepest, darkest and most painful secret. Call the Midwife star Jack Ashton returns as dodgy Angus - Faith's thieving one-night stand from last year, and troubled drug addict Kerrel Jones (Eiry Hughes) from last week makes a fraught reappearance.
Full spoilers for Baby, I Don't Care
Future Casualty episodes
Welcome to the Warzone - Saturday 08 April 2023 at 8.35pm on BBC One:
The paramedics welcome a surprise new recruit to the team, a new face in the ED turns clinical lead Max Cristie's world upside down, and Donna Jackson (Holby City's Jaye Jacobs) pops into the ED — but is she here to stay and will she have the new recruits with her?
Casualty is next expected to air on Saturday 15 April 2023. Check back for confirmation.
All episodes of Casualty in 2023
Casualty — January 2023
Start the Fire - Saturday, January 7 2023 at 9pm on BBC One:
In Casualty's first episode of the year Dylan Keogh confronts a significant figure from his past, while Rash Masum realises something is seriously wrong with his father…
Our spoilers for Start the Fire
Fear Not - Saturday, January 14 2023 at 8.50pm on BBC One:
Stevie Nash is embroiled in a deadly one-upmanship between Marcus Fidel and Jonty Buchanan. Elsewhere, Dylan Keogh is on the verge of a breakthrough…
Lost in Translation - Saturday, January 21 2023 at 8.50pm on BBC One:
Dylan Keogh inches closer to the devastating truth surrounding Dr Jemima's sinister death. Elsewhere, Jan Jenning returns to work and Stevie Nash is decimated online…
Our spoilers for Lost in Translation
No Casualty aired on Saturday 28 January 2023:
There was no Casualty on this date due to the FA Cup Live match between Preston North End and Tottenham Hotspur (5.40pm) being added to the schedules. Michael McIntyre's Big Show aired at 8pm and That's My Jam at 9pm.
If you're wondering - the final score was Preston 0 - Tottenham 3.
Casualty — February 2023
Fight or Flight - Saturday, February 4 2023 at 8.50pm on BBC One:
Ethan Hardy suddenly resigns, Jacob Masters is haunted by the past, and Dylan Keogh clashes with Marcus Fidel…
Our spoilers for Fight or Flight
Casualty double-bill: I.O.U and Running on Empty - Saturday, February 11 2023 on BBC One from 8pm:
In I.O.U. Marcus isolates Stevie Nash from Faith Cadogan. In the second outing Running on Empty he schemes to ruin Dylan Keogh's reputation! Elsewhere Jacob Masters deals with a shocking accident.
Our spoilers for I.O.U. and Running on Empty
Crash Landing - Saturday, February 18 2023 on BBC One at 8.40pm and BBC One Wales at 9.10pm:
Nigel Harman makes his debut as doctor Max Cristie in Casualty episode Crash Landing. Elsewhere, Robyn Miller takes a life-changing risk, and Stevie Nash falls into Marcus Fidel's love trap…
Our spoilers for Crash Landing
Not Important - Saturday, 25 February 2023 at 8.50pm on BBC One:
Stevie Nash discovers the horrifying truth when Marcus Fidel's evil past is revealed. Elsewhere, Faith Cadogan and Max Cristie clash over a tricky patient, Rash Masum considers taking drastic action, and Jacob Masters tries to help a friend in danger.
Our spoilers for Casualty episode Not Important
Casualty — March 2023
Pushover - Saturday 04 March 2023 on BBC One at 8.40pm:
Jacob Masters pushes the nursing team to punishing limits, Dylan Keogh and Rash Masum discover the traumatic truth about Holby's care homes when Ashok Masum is involved in a stabbing, there's a shocking new chapter in Stevie Nash and Marcus Fidel's abuse storyline as the pair prepare for a HR hearing, and Max Cristie makes a big revelation about his time at university with Dylan Keogh.
Falling Down - Saturday 11 March 2023 at 8.45pm on BBC One:
Robyn Miller says an angry goodbye to Holby, Faith Cadogan and Iain Dean get up close and personal, Elsie Clegg returns, and Jacob Masters makes a shocking decision that he may live to regret.
Our full spoilers for Falling Down.
The Straw - Saturday 18 March 2023 at 8.50pm on BBC One:
Picking up directly after last Saturday's cliffhanger, Robyn Miller's life hangs in the balance. Can Holby City's Sacha Levy save her?
Elsewhere, Jacob Masters faces the potentially deadly consequences of his actions, Charlie Fairhead questions his loyalty, while David Hide and Marty Kirkby make a tough call…
No Regrets - Saturday 25 March 2023 at 9.25pm on BBC One:
Disgraced former clinical lead Dylan Keogh fights to bring an abuser to justice, Jacob Masters finally faces his guilt, and is there more to Faith Cadogan's dishonest patient than meets the eye? Also this week, Liza Goddard guest stars as a visitor to the ED called Christine Robinson.
Casualty extras
Major Casualty news in 2023
First of the year — early spoilers for Casualty 2023.
Dylan Keogh's investigation into abuse in Holby care homes kicks off under tragic circumstances.
Ethan Hardy quits the ED - George Rainsford explains why.
Nigel Harman is confirmed as Holby ED's new clinical lead - and will be causing trouble for Dylan Keogh!
The Casualty 2023 Spring trailer is released - Faith Cadogan, Iain Dean, Dylan Keogh and Robyn Miller are all involved in shocking new storylines and Max Cristie is introduced.
Exclusive interview with Nigel Harman on his appointment as Casualty's new clinical lead, Max Cristie.
Robyn Miller decides to leave Holby with daughter Charlotte and Paul Pegg.
Revealed: The crux of Dylan Keogh and Max Cristie's bitter feud. Who's Lucy?
Amanda Henderson — things you didn't know about the Casualty star.
Interview revisit — Amanda Henderson on 10 years of playing Casualty nurse Robyn Miller.
Revealed — Robyn's deadly Casualty crash storyline.
Holby City legend Sacha Barrett returns to save Robyn Miller's life in Casualty.
5 times Robyn Miller escaped death
Robyn's death in Casualty - what happened, who quit and what happens next
Marty Kirkby and David Hide's exit
Cast tributes for Amanda Henderson
Holby City icon Donna Jackson joins Casualty along with four new characters
Call the Midwife star Jack Ashton returns as sinister Angus
Jacob Masters quits, Faith's addiction revealed, and Dylan Keogh steps down
Casualty is on (most!) Saturdays on BBC One. The latest episodes are available on BBC iPlayer. See our Casualty Page for spoilers, news and exclusive interviews.
Get the What to Watch Newsletter
The latest updates, reviews and unmissable series to watch and more!
Writer for TV Times, What's On TV, TV & Satellite Week and What To Watch
With twenty years of experience as an entertainment journalist, Elaine writes for What's on TV, TV Times, TV & Satellite Week and (opens in new tab)www.whattowatch.com (opens in new tab) covering a variety of programs from gardening and wildlife to documentaries and drama.
As well as active involvement in the WTW family's social media accounts, she has been known to get chatty on the red carpet and wander into the odd podcast.
After a day of previewing TV, writing about TV and interviewing TV stars, Elaine likes nothing than to relax… by watching TV.