Casualty spoilers for 2023: secrets, heartache and a huge shock arrival
Casualty is a hotbed of romance, lies, showdowns and faces from the past in 2023.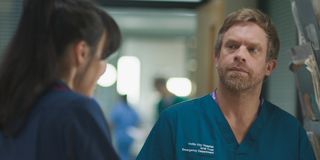 (Image credit: BBC)
Casualty is in rude health as 2023 gets underway and there's a sense of excitement behind-the-scenes that this could be one of the strongest series in the medical drama's 36 year (and counting) history.
From the get-go Dylan Keogh is embroiled in a murder investigation, Rash Masum faces a life-changing diagnosis involving his father, Robyn Miller has an unexpected new admirer, and Stevie Nash and Marcus Fidel's lies are exposed — to name just a few of the series' upcoming storylines!
Here, What To Watch takes a look at what lies ahead for all our Casualty favourites…
Casualty 2023 sees Dylan Keogh at the helm of the ED - and a private investigation
Dylan Keogh's world was rocked by the arrival of Dr Jemima Hargrove, his mentor, who was admitted to the ED following a suspicious fire at a Holby retirement home.
Having vowed to take his role as ED clinical lead more seriously, the arrival of Jemima (The Archers' Souad Faressm) immediately plunged Dylan into a predicament. She was accused of starting the fire that killed resident Shazia Swann, yet Dylan (William Beck) was soon led to believe there is much more to the story.
When Jemima tragically died of her injuries, Dylan got hold of her all-important notebook, which contains a series of names and numbers, correlating to something sinister at the care home.
In the coming weeks Dylan is dismayed when the case is dropped by the police. He vows to get to the bottom of the deadly mystery, but will it have serious repercussions in other areas of his life?
For more on this check out our deep dive into the sinister storyline.
Stevie Nash and Marcus Fidel — a gruesome twosome?
Secret lovers Stevie Nash and Marcus Fidel could spell trouble for distracted Dylan!
The couple have already joined forces and vowed to get Stevie (Elinor Lawless) into the coveted clinical lead role. It's fair to say that smarmy hospital manager Marcus (Adam Sina) has a knack for bringing out the worst in Stevie who, despite her single-minded ambition, is a diligent doctor.
Marcus' nice-guy persona will slip at some stage, however. The big question is, what damage will he do to Holby ED in his quest for control — and, will he bring Stevie down with him?
His subtle campaign to undermine Dylan with the big bosses is already underway, but the cracks in Marcus' demeanor start to show with the reappearance of alcoholic anesthetist Jonty Buchanan.
Jonty (Poldark star Richard Harrington) is bitter after being forced out of his job by Stevie and Marcus. So when a shot at revenge presents itself he runs with it — and there's quite the fallout.
Expect ruthless scheming, show-stopping showdowns, and lots of twists, turns, and unexpected repercussions…
Rash Masum and his father face an uncertain future
Rash Masum's relationship with his father is put under the microscope in a heartrending storyline in 2023. Rash (Neet Mohan) learns that his dad, Ashok (Kriss Dosanjh) is showing symptoms of dementia and becomes determined to care for him.
The storyline kicks off when Ashok's partner Mona Nadkarni (Shobu Kapoor) is admitted to the ED with a hand injury. It soon becomes apparent that she's been secretly taking care of Ashok, but is stressed and exhausted as a result. When Mona walks out of the family home, it's up to Rash to step in.
Rash takes Ashok to be assessed by a specialist, who confirms that it seems likely that he has vascular dementia. With Ashok unable to accept what's happening, Rash vows to take care of his dad. But the stress of managing his father's condition in tandem with his hectic work life, leads to serious consequences on all fronts.
Overwhelmed, Rash suffers a panic attack at work. It's clear there are tough times ahead for the father and son, in what is bound to be a moving and significant storyline…
Paige Allcott's job in jeopardy
Rash's on-off girlfriend also faces an uncertain future at Holby ED. Junior doctor Paige Allcott (Shalisha James-Davis) prepares herself for a disciplinary hearing with the GMC following the near-death of a patient last year.
Paige doesn't help her case when she continues to ignore the directions of her medical mentor, Stevie, on a regular basis. To be fair to Paige, she's thorough and has caught numerous life-threatening conditions due to her insistence on fully investigating all patients' symptoms. But this continues to put her at odds with senior consultant Stevie, who's more concerned with freeing up beds and treating as many people as quickly as possible — not least because Stevie's agenda is to prove she'd make an excellent clinical lead.
On the homefront, Paige and Rash are in a much more solid state — and she finally meets his father, although it's under less-than-ideal circumstances. As Rash struggles with Ashok's health needs and the demands of work, Paige is on hand to help. Fingers crossed for the young couple, who undoubtedly have a difficult start to 2023…
The outcome of the GMC hearing, however, will determine their future — Paige could be sacked for misconduct!
Charlie Fairhead re-lives the pain of losing Duffy
The ordeal facing Rash and his father does not go unnoticed by Casualty legend Charlie Fairhead — but will this open old wounds for the veteran nurse?
Charlie (Derek Thompson) is one of the first people to realise what Ashok is going through. He recognises the symptoms as being similar to those experienced by his now-deceased wife Duffy (played by Cathy Shipton). Unfortunately Rash lashes out at Charlie when he first shares his concerns…
Something tells us that Charlie will be there for Rash and his family in the upcoming months. But will it take a toll on him?
Robyn Miller has an admirer, which propels Paul Pegg into a dangerous world
Nurse Robyn Miller and ED receptionist Paul Pegg had numerous ups and downs in 2022. Happily they reconciled after Robyn (Amanda Henderson) almost died and Paul (Paul Popplewell) stuck up for her during a comedy fight with social worker Adi Kapadia (Raj Bajaj).
They're now trucking along nicely but, this being Casualty, that doesn't last long. The surprise arrival of their old school friend Damien 'Damo' Beddow in the ED, causes Paul to make an ill-advised decision!
Damo (played by Daniel Millar, who made his TV debut in London Kills season 3) sets his sights on Robyn and goes out of his way to belittle Paul, who he cruelly calls 'Slabbers.' Another charming element of Damo's personality is bragging about owning his own business.
Unfortunately a broken arm means Damo's out of action for six weeks, so he asks Paul to help him on the side. The catch is, Damo's rubbish removal business is shadier than a paint chart for the Addams Family.
Even so, Paul barely hesitates before he says yes, as he's desperate to earn some extra cash to impress and spoil Robyn. But is it a decision he will live to regret? We'd put money on it.
Jan Jenning reaches breaking point
Paramedic boss Jan Jenning had a shocking 2022 and 2023 looks like it's going to be equally relentless. Jan (Di Botcher) is still reeling from the events of Casualty's excellent special last year, which shone a light on the extreme pressures facing paramedics. Sadly, on that particularly gruelling shift, Jan accidentally ran over a pedestrian and is now facing an investigation.
We can reveal that the hearing works out in Jan's favour and after doing a driving test, she can return to work. Unfortunately the stresses of the job continue to mount, taking an heartbreaking toll on the experienced medic's mental health.
There's also tension among the other paramedics as Iain Dean (Michael Stevenson), Teddy Gowan (Milo Clarke) and Sah Brockner (Arin Smethurst) don't see eye-to-eye regarding Jan, which may have a devastating impact on their team work. And given the dangers of their job, we can't help but be worried for Holby's paramedic family...
Ethan Hardy exits stage left
It's no secret that George Rainsford, who plays doctor Ethan Hardy, is leaving Casualty in the very near future. But rest assured Ethan fans, the door has been left open for his return.
George, who has been central to the medical drama for nine years, is starring in the stage adaptation of Peter James' Wish You Were Dead. He plays main character DSI Roy Grace, alongside Clive Mantle (a fellow Casualty legend) and the winner of I'm A Celebrity 2020, Giovanna Fletcher.
Excited to share some new BTS press shots for our upcoming production of #PeterJames "Wish You Were Dead".We are touring the UK from February - July 2023. Come and see us! Ticket information available at: https://t.co/NJpueu4161 pic.twitter.com/CjzpIZlhOfNovember 14, 2022
What will happen to David Hide?
2022 was the cruellest of years for David Hide and we fear that 2023 holds more heartache for the ED nurse.
The stigma surrounding the deadly actions of his son Ollie (played by Harry Collett, who went on to star in House of the Dragon) is inescapable. There still needs to be an inquest into the tragic school shooting and the first-year anniversary will be an achingly difficult time for all concerned.
2023 sees David (Jason Durr) getting stuck into work, which has become his safe place. But when he goes home and closes the door, how is the complex and compassionate nurse coping?
Jason Durr on the aftermath of the school shooting storyline and what happens next
Faith Cadogan and Dylan Keogh to rekindle their relationship?
Speculation over Faith Cadogan's love life is always a hot topic for Casualty fans, who are split on whether they'd like to see her settle down with doctor Dylan Keogh or hook up with paramedic Iain Dean.
As 2023 gets underway Faith (Kirsty Mitchell) works closely with Dylan on a shocking new storyline. Meanwhile, it appears that Iain has been friendzoned.
Will Faith find love with either Dylan or Iain... or (dare we say it?)... someone else?!
There are rumours…
And finally, there are rumours that EastEnders star Nigel Harman will be joining the team as a new medic. While this is currently unconfirmed by BBC, new faces are vital to the health of Casualty, so watch this space!
Get the latest updates, reviews and unmissable series to watch and more!
Writer for TV Times, What's On TV, TV & Satellite Week and What To Watch
With twenty years of experience as an entertainment journalist, Elaine writes for What's on TV, TV Times, TV & Satellite Week and (opens in new tab)www.whattowatch.com (opens in new tab) covering a variety of programs from gardening and wildlife to documentaries and drama.
As well as active involvement in the WTW family's social media accounts, she has been known to get chatty on the red carpet and wander into the odd podcast.
After a day of previewing TV, writing about TV and interviewing TV stars, Elaine likes nothing than to relax… by watching TV.
Thank you for signing up to Whattowatch. You will receive a verification email shortly.
There was a problem. Please refresh the page and try again.