Casualty EXCLUSIVE: George Rainsford reveals all on Ethan Hardy's 'bittersweet' exit
Casualty star George Rainsford on Ethan's last shift, and his exciting new role as DSI Roy Grace.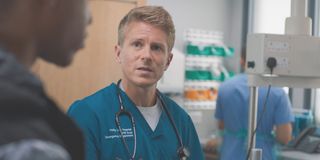 (Image credit: BBC)
A lot can happen to a character in nine years on Casualty, just ask star George Rainsford!
Since joining the popular BBC One medical drama in 2014 as doctor Ethan Hardy, storylines have seen his alter-ego face the onset of Huntington's disease, attempt to avenge the murder of his brother, registrar Cal Knight (Richard Winsor), and struggle to cope with his grief following the tragic death of his fiancée, paramedic Fenisha Khatri (Olivia D'Lima), on their wedding day.
In Casualty episode Fight or Flight (airs Saturday, February 4) the single dad decides to resign — marking the end of George's time on the show (for now) as the actor takes a break to pursue other projects.
Here, in an exclusive interview, George sets the scene for Ethan's exit and gives What To Watch the behind-the-scenes story on getting his new show on the road…
Casualty exclusive with George Rainsford. Warning: contains spoilers!
George, why does now feel like a good time to leave Casualty?
George Rainsford: "One of my big reasons for wanting a break was to spend more time at home. It's a big, long commute [to Cardiff, where the series is filmed] and I've a young family. I was also getting that itch to explore other challenges. I turned 40 last year, too, so it all rolled into one package!"
Are you pleased Ethan isn't being killed off?
GR: "Yes, and that was very much part of the conversation when I was toying with the idea of a break. I said, 'I'd like the door to be left open, please.' I know there are no guarantees in our industry, but I like that Ethan has gone away, yet there's loads to explore down the line.
"In terms of storylines, there was nothing in the immediate vicinity that they wanted me to play out. So it was a nice time to leave quietly, much like Ethan does in the episode, actually."
What can you reveal about his exit episode?
GR: "Ethan is going for his final interview for the Jac Naylor Award, which is a six-month placement abroad. At the same time, he's treating a young boy, who makes him think about his own son, Bodhi. Alongside all this, Fenisha's parents are in the hospital because her mother has a heart attack.
"Ethan starts to assess his responsibilities. He's aware his future is probably going to be shorter than other people's [having been diagnosed with Huntington's disease], so he needs to make the most of life. It all comes to a head and he makes his decision. It's bittersweet. I'm leaving, as [clinical lead] Dylan Keogh says, with an Irish Exit!"
Ethan slips away without saying goodbye to his colleagues. But, did you have a leaving party?
GR: "Yes, and it coincided with Casualty's summer break in August, so it was a joint 'Summer and See you later, Ethan' party. The cast made videos, there were a few speeches, and William Beck [AKA Dylan Keogh] DJ-ed! I'm a '90s kid, so I requested a bit of a rave up and Will was really up for it. It was a hot day, we were all out on the terrace, and it was just lovely."
Have you been back to see everyone since then?
GR: "I went back in October to meet up with a few of them and it was really strange, especially as there were some new faces. The swing doors of Casualty never stay still!"
Has anyone taken over your old dressing room?
GR: "Eli [Lawless], who plays Stevie Nash, was straight in there because I had a good one! I was on the quieter end of the corridor, so she bagsied that after I left!"
Looking back over the past nine years, what have been your favourite storylines?
GR: "The story around Olivia D'Lima leaving. I loved our wedding double-bill [which aired in 2021]. Although if you'd asked me at the time, I probably would have said it was too intense!
"I also really enjoyed the episodes where Richard Winsor came back in flashbacks [in 2021] and we re-lived 2016.
"I always love those big, ensemble pieces with the whole cast. Our coronavirus episode was particularly poignant; we were telling a story that meant so much."
What will you miss most — and least! — about being in Casualty?
GR: "I'll miss the people. 100%. the cast and crew are so talented and fun to be around. But I'm happy not to do those long days in Resus for a while! We film them over a couple of days and there's a lot of tricky medical prosthetics and the medical jargon is like a foreign language. We all go a bit doolally!"
The next chapter of your career sees you starring in the stage adaptation of Peter James' crime novella Wish You Were Dead. Are you looking forward to it?
GR: "I'm really looking forward to getting back on stage. I've wanted to do a play for a while because theatre's my first love. But I've definitely got that feeling of going back to school!"
Are you a fan of the crime genre?
GR: "I absolutely love crime dramas, in particular on telly. Happy Valley is my favourite show at the moment. I love all that dark stuff and Scandi noir like The Bridge and The Killing."
The UK tour for Wish You Were Dead begins on 16 February. What can you tell us about the plot?
GR: "It's the sixth play by crime writer Peter James. Fans of his will know the character Roy Grace. He's a detective superintendent, who lives in Brighton. Most of the stories take place in and around Sussex, but this one is a little different because Roy, who I play, and his wife, Cleo, played by Giovanna Fletcher, are on holiday.
"It starts off quite lightheartedly as a holiday going wrong, with a slightly haphazard, maître d. But as it goes on, it becomes more sinister — the people who run the hotel aren't who they say they are!"
Have you worked with any of the Wish You Were Dead cast previously?
GR: "I remember going on a school trip to see Clive in an adaptation of Of Mice and Men with my drama GCSE group! We also did a Doctor Who audio together [in 2012] and a Casualty-themed episode of Pointless Celebrities [in 2021]. Clive [AKA doctor Mike Barratt] won it, while Di Botcher [who plays paramedic Jan Jenning] and I came last!"
Have you seen John Simm's portrayal of Roy Grace in ITV1 crime drama Grace?
GR: "Yes, it's great! I really like the books, too. I'm immersing myself in the back catalogue. I had lunch with Peter James in Brighton and he's a really interesting guy. He does a lot of research and has been to visit people in prison. He said I can ask him any questions, which I will be taking him up on as the rehearsals get going and the self doubt kicks in!"
Hopefully, some of your Casualty co-stars will come to see you treading the boards!
GR: "Yes, well, I'm in Cardiff, so they have no excuse! Without being too gushy, Casualty has been completely life-changing. I got to really immerse myself in a character and a show. It also allowed things to happen in my family life, which wouldn't necessarily have been possible at that period. It feels like everything changed and I've come up the other side ten years older and with all these amazing experiences."
George Rainsford's Casualty exit airs on Saturday, February 4, 2023 at 8.50 pm on BBC One and 9.20 pm on BBC Wales on — see our TV Guide for listings.
It will be available on BBC iPlayer after transmission.
Wish You Were Dead is touring across the UK from 16 February until 29 July. Tickets and venues: PeterJames.com
Get the What to Watch Newsletter
The latest updates, reviews and unmissable series to watch and more!
Writer for TV Times, What's On TV, TV & Satellite Week and What To Watch
With twenty years of experience as an entertainment journalist, Elaine writes for What's on TV, TV Times, TV & Satellite Week and (opens in new tab)www.whattowatch.com (opens in new tab) covering a variety of programs from gardening and wildlife to documentaries and drama.
As well as active involvement in the WTW family's social media accounts, she has been known to get chatty on the red carpet and wander into the odd podcast.
After a day of previewing TV, writing about TV and interviewing TV stars, Elaine likes nothing than to relax… by watching TV.